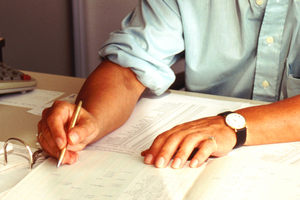 Poor audits into two collapsed finance companies have cost two Auckland chartered accountants hundreds of thousands of dollars in fines.
Peter McNoe and Robert Innes-Jones have also been censured, had their practising certificates suspended for two years, and been banned from doing some audits for five years for breaching the Institute of Chartered Accountants' code of ethics.
Mr Innes-Jones was ordered to pay $320,000 on two charges relating to a 2006 audit of Blue Chip, which collapsed in 2008 leaving more than 2000 investors more than $80 million out of pocket, and another of the still-operating Beneficial Finance.
The institute found he breached the code over his conclusion that $42.5 million of aggregated Blue Chip deposits paid on investment property was recoverable. He also signed an audit opinion asserting Blue Chip financial statements complied with accepted accounting practice when they failed to correctly recognise a liability over the company's exposure to rental guarantees provided to investors.
Mr McNoe was fined $280,000 on four charges relating to an audit for the year ending March 2007 for Capital+Merchant, which owed 7000 investors $165 million when it was put into receivership later that year, and a fifth relating to Beneficial Finance statements. He failed to obtain sufficient audit evidence to back his conclusion that mortgages and loans totalling more than $180 million were recoverable. Both can appeal.