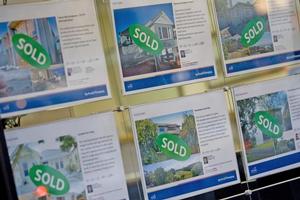 House prices rose last month and homes sold more quickly, real estate figures show.
Wellington led the way, with August prices 7.5 per cent higher than in August last year. Auckland followed with a 4.4 per cent rise.
The national median house price was $346,750, up 2 per cent from July and 5.1 per cent higher than the same month last year, said the Real Estate Institute of New Zealand.
Sales were down to 5878, from 6014 in July but up from 4220 in August last year.
The median number of days it took to sell a house in August was 34, down from 37 in July and 55 in August last year.
Institute president Mike Elford said the noticeable increase in sale numbers and speed of turnover compared with a year ago was pleasing.
The latest statistics were in line with other signs that financial commentators suggested pointed to a recovery from recession.
"We would be reluctant to say the hard times are over, but if the trees are not yet in full bloom, there are certainly buds in view," Mr Elford said.
During August, the national value of houses changing hands was $2.504 billion.
Most of these were in Auckland ($1.142 billion) followed by Canterbury/Westland ($313.5 million), Waikato/Bay of Plenty ($293 million) and Wellington ($275.7 million).
From the number of days it took to sell a house it was clear the issue was not that houses were hard to sell, but rather, there was a shortage of stock, Mr Elford said.
"People are sitting tight in their homes, enjoying the relief of lower interest rates, which is resulting in limited stock available.
"Where properties are coming on the market, we're seeing multiple offers, which is good for sellers."
The house price index, compiled with the Reserve Bank, using an average of sale prices for common groups, increased 1.2 per cent in August and was 2.6 per cent higher than a year earlier.
The Government agency Quotable Value said last week that house prices rose for the fifth consecutive month. But prices were 6.2 per cent below their November 2007 peak.