A new work by the NZ Dance Company uses 25 musicians and eight dancers to pay tribute to the war memorial rotunda. Bernadette Rae reports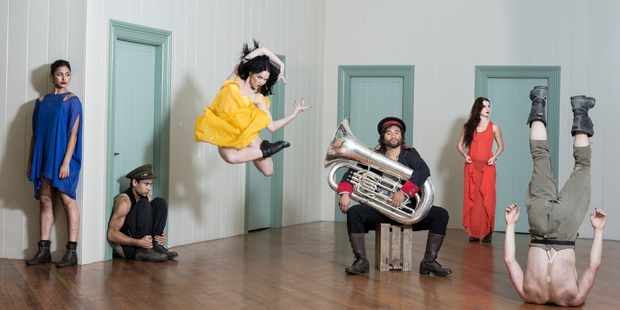 They stand in old parks and town domains, mostly devoid now of the attention they once commanded as the focal point of the surrounding community. Built as memorials to those lost in the great wars, the significance of the band rotunda has faded, with skateboard parks and talking loos now the favoured embellishment of modern tracts of land preserved for community recreation.
But the New Zealand Dance Company's new work, Rotunda, set to a poignant score of contemporary brass band music and performed on stage by 25 musicians and eight dancers, finds huge relevance in the historical role of rotundas for today's world.
The work is inspired by events of 100 years ago, but resorting to violence is still a daily occurrence in the world, says Shona McCullagh, NZDC's artistic director, and there are daily reminders, via modern media, of all of the horrors of war that make the topic intensely relevant today.
The "allure of violence" still reflects the primal instinct to defend and protect and we still need to confront our collective failure to solve the war issue, she says, but the good that comes from terrible events is also a huge human force and cause for celebration, and one of the most positive forces on the planet.
"War draws people closer together and in its shadow people can show extraordinary acts of goodness: in easing the suffering of others and in showing overwhelming compassion."
So although Rotunda is about loss, absence, death and grief, it is also about the goodness in humanity and the power of love.
McCullagh says she has always been fascinated by band rotundas and their cultural and social significance. But she was astonished to discover the enormous back category that exists of beautiful contemporary music written for brass bands.
Brass bands have long held the role in society of making modern rituals to inspire loyalty in communities, to express grief, to commemorate and to celebrate human achievement.
The brass band's modern world is also one of annual competition, and each year each band has to play a new composition by a contemporary composer. Rotunda's score includes, alongside traditional hymns, pieces composed by John Ritchie; Gareth Farr's elemental and rhythmically dynamic Tawhirimatea; musical director Don McGlashan's beautiful memorial work Quinella; and themes and variations, arranged by McGlashan, on E Pari Ra, originally written as a farewell to the Maori Battalion in World War I.
The company has already been invited to perform Rotunda in the Holland Dance Festival next year and McCullagh relishes the prospect of introducing these New Zealand compositions to the Dutch brass bands that will accompany them there. "It is music that cuts to the quick of your heart," she says.
The work will also tour in 2015, the year of the Anzac centenary, she says.
Rotunda's dancers are Hannah Tasker-Poland, Lucy Lynch, Justin Haiu and Tupua Tigafua, who all performed in the company's inaugural programme Language of Living, plus Emmi Coupe, Chrissy Kokiri, Gareth Okan, Carl Tolentino and intern Emma Dellabarca. They will perform, fittingly, "in the round" and with a "magical" set by Joe Bleakley, costumes by Jane Holland and lighting by Paul O'Brien.
The NZDC was launched last year, with Language of Living.
McCullagh is delighted with the company's progress since then. "We toured the North Island with Language of Living earlier this year," she says, "and we will take it to the South Island next year. We are thrilled to be invited to Holland next year. We also are working on a new work for late next year that will explore the interface between movement and projected technology."
And 2015 will be the big year for Rotunda, with interest already expressed from Australia.
But the best news of all for the company is their acquiring a new permanent home, in Wellesley St West, where a suite of three studios is being refurbished for occupation in November. McCullagh describes her initial strategic plan for the company, in simple terms, as "a board, a brand, bucks and a building".
"We have made amazing progress in those terms," she says, "in just two years. The best part is that from November the dancers will actually have a real home - and with their own lockers."