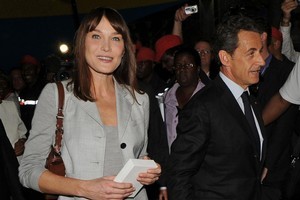 Being a lefty just became a little less trendy with Carla Bruni-Sarkozy's admission this week that "I don't really feel left-wing any more".
There are various sub-categories of trendy leftism and France's first lady was a member of most of them. She was a "luvvie lefty" by virtue of being a singer/songwriter who professed to find monogamy boring and had a string of famous ex-lovers. She preferred the term "bobo", shorthand for bourgeois bohemian. As a former model, she qualified as a Gucci socialist, while being the heiress to a fortune made her a classic limousine liberal.
These terms are based on the premise that there's something bogus about rich celebrities who claim to be leftists, even though being left-wing isn't quite what it used to be now most parties of the left have renounced socialism. There's an assumption that people approach politics on the basis of "what's in it for me?" Thus anyone who claims otherwise must be a fraud.
In an age when many citizens can't be bothered voting, or vote for the party offering the biggest bribe or running the most irresponsible scare campaign, it's hard to know why well-off liberals are singled out. It seems we resent it when people who've got what we aspire to don't act in their own narrow self-interest: they're rubbing in the fact they can afford to.
There's speculation Bruni-Sarkozy jettisoned her left-wing beliefs to ensure they are not an issue in next year's presidential election, but she may simply be getting more conservative as she gets older, as people often do. She's hinted that it's a reaction to disagreeable developments on the left, echoing the plaintive cry of many a defector: "I didn't leave the party; it left me".
Which raises questions: what does being left-wing or right-wing really mean? Are these terms relevant in an era in which parties shamelessly steal their opponents' policies and ideology is perceived to be dead?
According to the cover story in this week's Time, Barack Obama's re-election strategy is to become Ronald Reagan Mark II. This is an interesting gambit, not the least because while he's trying to reinvent himself as a blithely optimistic 70-something conservative white man, all the Republican presidential contenders will be striving to persuade the party faithful they are in fact Ronnie reincarnated.
For the nearest thing to an intellectual to occupy the Oval Office since Woodrow Wilson to model himself on the furthest thing from an intellectual among his recent predecessors would make Bruni-Sarkozy's shift seem as inconsequential as a new hairstyle.
The New Zealand and Australian economies were prised from the state's suffocating embrace by Labour governments rather than the right-wing parties which had been in power almost continuously post-war. Tony Blair's New Labour had distinctly Thatcherite overtones, while Bill Clinton's above-the-fray Triangulation strategy - "the era of big government is over" - was the brainchild of Republican consultant Dick Morris, now of Fox News.
Fiscal responsibility has suddenly become the hot-button issue for US conservatives who looked on in silence while George W. Bush plunged his Government deeper and deeper into the red. When Clinton left office in January 2001, the Congressional Budget Office was projecting a US$1 billion-plus surplus from 2009 through to 2012; in fact there's a US$1.5 trillion deficit.
As one of its leaders admitted this week, the Tea Party wouldn't exist if Republicans had acted like Republicans during the Bush years.
Jihadist terror has caused similar confusion and hypocrisy on the left. British journalist Nick Cohen's indignation at the left's reluctance to acknowledge Islamist fundamentalism is incompatible with traditional leftist causes such as secularism, women's rights and sexual freedom gave rise to a book entitled What's Left? How Liberals Lost their Way.
It remains to be seen whether the public will interpret asset sales as National lurching back to free-market dogmatism or a sensible measure to reduce the possibility of a Greek-style crisis, but John Key has gone to considerable lengths to present himself as a man without an ideological bone in his body.
Not content with taking ideology out of politics, Key now wants to take politics out of politics going by his recent decision to give us a guided tour of his fantasy world.
Perhaps he just doesn't feel right-wing any more. For conservatives discomforted by National's alliance with the Maori Party, that would explain everything.