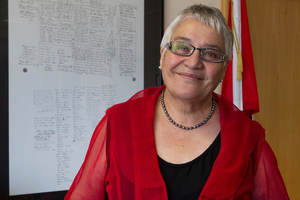 When a German internet entrepreneur can be seriously proposed as a candidate for New Zealander of the Year, our ideas of what constitutes "New Zealandness" are obviously in flux, to say the least.
This point was emphasised recently when I picked up a copy of The Kiwi Colouring Book at a $2 shop. (I was buying it for a friend, you understand.) In this order, pages showed: a puppy in a spaceship, a boy rowing a boat, the Sky Tower, the TSS Earnslaw, a tuatara, a kea and several more unmistakably New Zealand images before running out of steam and defaulting to a wheelbarrow, a goldfish, a bunny rabbit and a butterfly.
Some media, including this one, have recently been agonising over what New Zealandness means. There's a tendency to think icons constitute a culture, but France is not the Eiffel Tower, snails and croissants, and we are not Jandals, pavlovas and Buzzy bloody Bee.
As much as any other factor, being a New Zealander means a sense of connection to a place and the feeling you belong there. It may be the town where your parents were born and that you seldom visit; or the city where you were born and have always lived, or the temporary refugee accommodation, which was the first place you spent the night in your new country.
That sense of belonging also includes a connection to shared experiences - things that mean something to us but next to nothing to anyone else. That's one of the reasons why the anniversary of the Treaty of Waitangi signing is as good a day as any to be our national day. Like the 1981 Springbok tour, the Crewe murders or the Muldoon years, it's a piece of heritage that looms large in our minds. For all its faults and flaws, the Treaty still symbolises a continuing commitment to different cultures working together.
Unfortunately, it acknowledges only two cultures and we are made up of many more than that, especially in the north. As well as Maori and European New Zealanders we have - and always have had - a substantial Asian and Pacific islands ethnic component to our population. This is why we still can't decide whether Pakeha means European or non-Maori.
Asian New Zealanders now outnumber those from the Pacific islands and, according to the most recent available census figures, are our fastest growing population sector - up 50 per cent between 2001 and 2006.
To insist that we are two cultures is to tell a lot of people who make a big contribution to this country that they are not New Zealanders. It's time to expand the outdated, unrepresentative, bicultural model to include them.
It's not often you can look to politics for examples of gracious behaviour but no one exemplified that quality better than Maori Party leader Tariana Turia when asked about an article by Sir Paul Holmes, on Maori and Waitangi Day, which appeared a year ago and which could have been better expressed.
Turia said Holmes had told her he was sorry for the offence caused and for her part - in contrast to the many small-minded cavillers who brought the matter up as a reason why Holmes should not have been knighted - the matter was closed.
"The only people who suffer when you cannot forgive somebody else is yourself," she said.
You may want to cut that out and pin it up somewhere as an example of what politicians are capable of if they put their minds to it. It could be a while before something similar comes along.

Debate on this article is now closed.