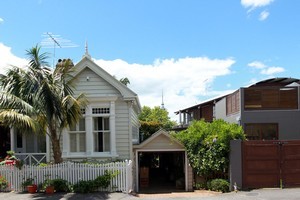 For now, the nondescript 130-year-old house in 18 Paget St, Freemans Bay, still stands. Most of the original two-bedroom cottage is buried under several decades worth of additions to the building.
Such attractive buildings used to define Ponsonby and give it a unique look. In recent decades, much of the area's built heritage - the technical term for "old buildings" - has been demolished to be replaced by architecturally self-indulgent follies that may date faster than you can say "glass bricks".
The Paget St property was sold to Wynnis Armour for $2 million more than a year ago. Turns out she was not intending to pay $1 million per bedroom with a nice view thrown in. Armour wants to demolish the house and build what may be, for all we know, something that will make the Sydney Opera House look shabby.
It's a paradox that Ponsonby has not only a high number of attractive old buildings, from humble workers' dwellings to merchants' mansions, but also a large number of people with much money and no taste who want to live within walking distance of bars and over-priced frock shops and are prepared to wipe out part of the national heritage to do so.
Individuals own the properties but we all own the heritage. And every time yet another no-account house is knocked down, we lose something beyond price.
Ponsonby, for instance, is now a jumble of magnificent old buildings - great and small - side by side with contemporary carbuncles that will be looked back on with embarrassment in years to come.
What could have been a district with a singular architectural identity, with numerous stories to tell about our past, has become a monument to expediency and bad taste.
Which is why there are those who think Armour should not knock down her house.
But she holds all the cards. The demolition has been signed off by a consultant and she has every right to do anything she wants with her own property.
It seems to me that one casualty of the process has been planning consultant Brooke Dales, who approved the Paget St demolition, plus that of several Spanish Mission-style St Heliers Bay properties last year.
Auckland Council says it still has confidence in his abilities and professionalism, though it will no longer use him as a consultant planner in such cases. This will be bad news for many because, until now, if you did want an attractive structure of a certain age bowled, I reckon Brooke was your go-to guy.
Pity also the Historic Places Trust, an organisation that many believe protects historic places.
It cannot, by law.
When the Government created this watchdog, it gave it a bone and took away its teeth. All the trust can do is register a site as having some importance. This triggers a requirement for the relevant local authority to consider granting protection in its district plan. Or, as is more often the case, not granting protection.
It's an absurd state of affairs but there are remedies. One would be to make all buildings older than a certain age protected automatically. The onus would be on the owner to prove it has no merit and that its demolition would not weaken the heritage qualities of a district.
Some would object that such a move would make it impossible to knock down anything.
Exactly.
* * *
Somewhere in the dark night of even the worst tragedies there is always a shining light of hope to be found, though I for one would not want to be in a race to the lifeboats with one Larry Stevens, who had this to say about the Costa Concordia disaster on a cruise aficionados' website: "I am looking for Costa to offer cheap deals to get people back on. The chances of this [accident] happening again are nil."
* * *
Surely if Kim Dotcom was sincere in his attachment to this country he would have changed his name to Kim Dotcodotenzed.