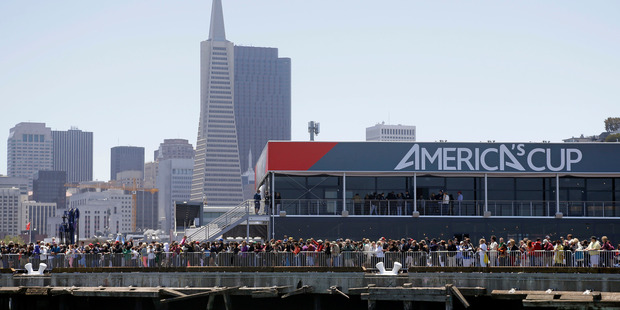 Herald on Sunday sports editor and sailing reporter Paul Lewis with the latest goings-on in San Francisco, the host city of the 34th America's Cup.
From: Paul Lewis
To: Anyone who's interested
Subject: EMAIL FROM SAN FRANCISCO
A look inside home base
If any sailing fans heading over for the America's Cup are lucky enough to get an invite to have a look at the base - take it.
They will find a mix of functionality and creative thinking that typifies, in a way, an event that marries one of humankind's most ancient arts - sailing - with the newest and most modern yachts on the planet.
In cold, hard, objective terms, the base is a whole mess of containers. There is nothing attractive, either visually or in a tactile sense, about a whole bunch of containers.
But in the spirit of this hi-tech America's Cup, mixed with good old Kiwi No 8 wire mentality, somehow the team have built a base redolent of home on the grey concrete mass of Piers 30-32.
It's not just the portrait of Sir Peter Blake that greets you on the way in - though it's that too. Black-shirted and black-shorted team members are everywhere in this small container city. Dozens of containers have been clipped together - nothing new in that - but have been cleverly designed and re-assembled so they provide, in some cases, not just shelter but surprising space.
As we leave Blake's portrait, we move straight into the large dining area and kitchen. Just as an army marches on its stomach, so does an America's Cup team. Someone has just made a chocolate cake which is placed on the ledge between the kitchen and dining room. Sailors and shore crew appear from nowhere. It's like those scenes on Discovery Channel where a shoal of piranha strip prey down to bones in a trice. This is obviously not a good place to be a chocolate cake.
The containers have also been styled into offices, board room, and vast sheds for housing the 72-foot AC72 catamaran and the team's two giant wingsails - 40m high and such an impressive piece of engineering and design that the Kiwis showed they didn't even need their jib when it broke free and they had to drop it in the bay during Monday's race with Luna Rossa.
There is a huge gym, obviously well used, shower and toilet blacks and locker rooms. Plus the giant waka - this not made from containers but beautifully decked out in pine rib panels inside the stretched white canvas which makes up the body of the boat big enough to accommodate 120 with ease. It is used for sponsors and NZ Trade & Enterprise gatherings, taking the chance to showcase Kiwi businesses.
But the main feeling is a conviction that the Team NZ sailors are not exactly in the lap of luxury. There's a temptation for some, when contemplating the US$100 million popularly used as a figure to be competitive in the 34th America's Cup, to be fooled that the team are somehow modern sybarites, cocooned in comfort and pleasure before having to (oh, the pain...) go out for another sail.
But Team NZ clearly work hard at the gym and on the physically sapping races and training, plus at the vital teamwork of communication, coordination and the art of improving such new and state-of-the-art boats. There are discoveries made almost with every sail that helps the yacht go faster; the team blends the knowledge, experience, electronic data and the marriage of designers and sailors.
So they're not sitting round, having grapes peeled for them and pedicures or some such. Even team boss Grant Dalton has a container office upstairs - a natural vantage point for a commander. Only it apparently gets as hot as a sauna when the sun is out.
Paul Lewis, Herald on Sunday sports editor