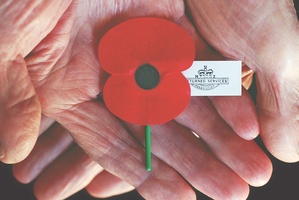 Paraparaumu RSA is supporting New Zealand-made poppies instead of ones made in China.
In the club's latest newsletter, welfare officer Alan Dempsey says the club didn't buy poppies from suppliers this year and instead used the club's "on-hand" supplies.
"Most of our on-hand poppies given for donations were in fact assembled in Christchurch [by the IHC community], and not from Auckland [sourced from China]. Our welfare committee has undertaken again to continue to support the IHC community in Christchurch by purchasing poppies assembled by them for next year's Poppy Day.
"Next year we will have a sign at all collection points saying 'Our poppies come from Christchurch'."
The club raised more than $8500 from Poppy Day, while last year's total was $7200. All money raised in Kapiti stays in the area.
Mr Dempsey said poppies had been made in Christchurch for a long time but then RSA headquarters got a better deal.
"It was something like 11 cents through Auckland and 23 cents in Christchurch. But we felt obliged to support New Zealand made. And of course we're asking to support the old soldiers so we can't say 'never mind the IHC'.
"We rely on the generosity of the Kapiti people to top it up, that's how we feel. Our collectors are always asked 'are these Chinese or Christchurch'. They [the customer] will put in but won't take a poppy if they think it's Chinese."
He said there were a few "top-up boxes" used from Auckland but "they certainly won't be from next year".
Mr Dempsey said the national body's direction was to use caches from Auckland. "But at the end of the day, it's up to us. It doesn't make us the most popular, but it's a moral thing isn't it?"
For more articles from this region, go to Wanganui Chronicle