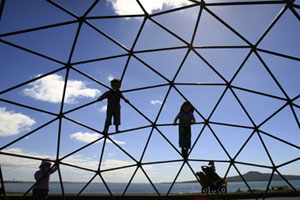 As milestones go, turning two-and-a-half doesn't seem that momentous. But I can't believe as I write this my little girl Mia is halfway to going to school.
Time sure flies when you're changing nappies and standing at the playground bored out of your tree.
Since Mia was born she's grown from a scrawny beetroot and chocolate coloured bundle of joy, to a blonde little girl who's full of business, ridiculously cute, and prone to tantrums.
Also in this time she's battled chronic nappy rash, and won, by toilet training early; she's loved having "nudey rudey" time throughout two beautiful summers; and she's gone from being so-so about daycare, to loving it and making some little friends.
She's spoken her first words, one of which was "beer" - that made me very proud.
And there have been some bad words too. One day we were wandering through Western Springs park and her mum asked, "Shall we go to the playground, Mia?"
Her reply? A bratty and insolent, "What-ever!".
Don't get me wrong. She's a sweetie and that's an extreme example which is actually quite funny when you tell your friends and family about it.
The other night we showed Mia the photo of her in her mummy's tummy. She'd seen it before but this time she was intrigued to the point of obsession.
She wanted to get back in her mummy's tummy and even took off her shoes in readiness. Which means, of course, it won't be long before the big question: "How did I get in there?"
To which, I guess I'll say, "Go ask your mother."
And this week she also answered the phone properly for the first time, and held a conversation with Poppa and Nana for a minute-or-so before saying, "You talk to mummy".
Mia is a cool, confident and happy little kid - and what else could we ask for?
If you can't tell already, I'm quite chuffed about the milestones and achievements my little girl has notched up in just two and a half years.
And I'm planning on making the most of the next 30 months because at the beginning of 2013 she will skip off into the big bad world to learn her times tables and deal with playground bullies all on her lonesome.