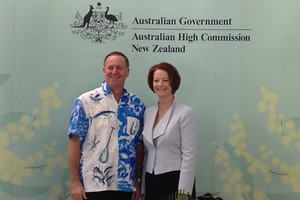 Australia and New Zealand are resisting overtures to readmit Fiji to the Pacific Islands Forum before its promised 2014 elections.
Prime Minister Julia Gillard held talks with New Zealand PM John Key on Wednesday (local time) in Rarotonga where the Cook Islands is hosting the annual forum meeting, with Fiji's progress toward democracy high on their agenda.
Relations with Suva have thawed, after both nations agreed to exchange high commissioners with Fiji and relax some sanctions ahead of the promised 2014 poll.
That progress will be a key talking point at the forum leaders' retreat on Aitutaki overnight, with the forum's final communique expected to include an update on its stance toward Fiji - which has been suspended since 2009.
While many Pacific nations advocate for Fiji to be readmitted to the forum, Mr Key says Australia and New Zealand will be standing firm.
"We'll welcome the progress Fiji is making but we'll be cautious and point out that we really don't think Fiji should be allowed back into the forum in full until they actually have democratic elections and the military are back in the barracks."
He says Australia and New Zealand will have to provide most of the heavy lifting to ensure promised elections actually take place.
"There's always a chance (Fiji's leader Commodore Frank) Bainimarama won't go ahead with those elections - that's been the position in the past, so we'll take it one step at a time."
Ms Gillard and Mr Key also discussed Australia's moves to reopen asylum seeker processing centres in Nauru and Papua New Guinea.
After their meeting, Ms Gillard met Nauru's President Sprent Dabwido and the two countries signed a memorandum of understanding to establish a regional processing centre in Nauru at the earliest opportunity.
Mr Key has also signalled that discussions in Aitutaki will centre largely on the forum's main theme, maritime and fisheries governance and development.
He says the development of fish stocks, which are key to food security and economic growth in the Pacific, will be a big part of those talks, and New Zealand will make an announcement on aid to help with fisheries management.
- AAP