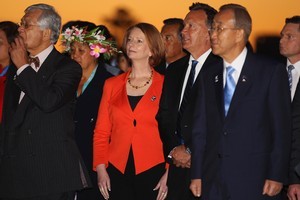 Prime Minister Julia Gillard will find little relief from the tsunami of problems drowning her ailing minority Government during her time at the Pacific Islands Forum in Auckland.
She will almost certainly take the collapse of her asylum seeker policy into talks with the leaders of Nauru and Papua New Guinea, and the forum's focus on climate change will come as she prepares to hammer her proposed carbon tax through Parliament.
And waiting for her at home is the continued reality that she is among modern Australia's least popular leaders, heading a Government that appears to be locked into a death spin.
Already trailing Opposition Leader Tony Abbott as preferred prime minister and facing oblivion at the next election if present poll trends hold true, Gillard also faces the prospect of a gruelling and damaging conflict with the Labor left.
Although bolstered by the publicly uncompromising support of her senior ministers and denials of rebellion in the back benches, leadership rumours have continued.
The latest Newspoll, published in yesterday's Australian, have added to the pall darkening above Labor and wide public perceptions of a Government falling apart at the seams.
According to Newspoll chief executive Martin O'Shannessy, an election delivering similar results to its findings would cost Labor up to 40 seats, including nine ministers.
The Coalition leads Labor by 59-41 per cent in the two-party vote that decides Australian elections, a chasm that was not matched even during former Liberal Prime Minister John Howard's term as the nation's second longest-serving leader.
And while Labor managed to avert a further fall in its 27 per cent primary vote, its rock-bottom support still trails that held by Paul Keating, Labor's most disliked leader in more than three decades.
At 23 per cent, Gillard's satisfaction rating is only seven points above Keating at the depths of his unpopularity, and for the sixth successive poll she trails Abbott as preferred prime minister, by 43-34 per cent.
Given a choice, most voters would welcome Kevin Rudd back as Labor Leader. The ousted Prime Minister and present Foreign Minister, who is recovering from a heart operation, leads Gillard as preferred leader by 57-24 per cent.
Despite Gillard's success in negotiating key policies, including health and hospitals reforms and a national no-fault disability scheme, perceptions have narrowed to the brutal political brawling over the three areas she identified as her priorities after winning power: the mining tax, asylum seekers and a carbon tax.
The carbon tax, due to enter Parliament next week, will almost certainly pass with the support of the Greens and independent MPs, but is unpopular with many voters.
The mining tax is now under new pressure, but Gillard's worst headache is the High Court's rejection of the plan to swap 800 asylum seekers for 4000 refugees from Malaysia, a decision that legal advice suggests also rules out the former Howard-era "Pacific solution" camps in Nauru and PNG.
Gillard's only real option to continue offshore processing seems to be new legislation to skirt the High Court ban, but that would require accepting Abbott's offer of support to push new laws through parliament.
Senior ministers again rallied to Gillard's defence yesterday.
"Julia Gillard is tough as nails [and] is doing the hard yards," Treasurer Wayne Swan told ABC radio.
Defence Minister Stephen Smith, suggested as a possible replacement, also told the ABC: "There's no vacancy. These things are not in contemplation."