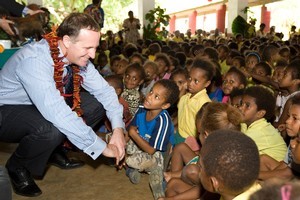 The Pacific way is all about unity and partnership, various leaders said at the opening of the Pacific Islands Forum in Vanuatu this week.
It's also about taking a relaxed pace, even if there are real and urgent issues to deal with.
The forum concluded yesterday and the communique - a document of outcomes - was released. It is usually full of mostly meaningless official-speak, and this year was no exception.
Lines included: "Leaders recognised the importance of effective co-ordination and implementation of climate change adaptation and mitigation efforts at all levels, and particularly at the national level." Still awake?
Common words through the document are "reaffirm", as well as "urgent need" and "continuing deep concern", implying that leaders nodded their heads a lot and patted themselves on their backs for maintaining the status quo and recognising the obvious: climate change may be bad for the Pacific; fisheries could be used better; spending aid money better is a good thing.
There are moments of hilarity - "Leaders undertook to consider submitting a letter" - meaning someone thought it might be a good idea, but they didn't actually do it.
Other parts are vague; the paragraphs about Fiji don't even mention the word "suspension", though leaders apparently unanimously agreed to continue to suspend Suva from the forum.
Prime Minister John Key was adamant it had been a good conference.
"We're continuing to push along the themes we had in 2009, particularly working for the Cairns Compact, which is making sure the aid money that goes into the Pacific is being well spent and well directed."
One of the goals of the compact is to peer-review how aid money is spent, and the forum heard a report from Nauru and Kiribati, though the communique made no mention of whether the aid money was being used well.
Fiji, in its absence, made some gains. The forum softened its stance on including Suva in the Pacer-Plus free trade process, and the Ministerial Contact Group will look at whether the regime should be included in officials' meetings. The move was pushed by New Zealand.
Fiji is an economic powerhouse in the Pacific, and the fact that it has been on the sidelines has meant very little progress on Pacer-Plus so far.
From New Zealand's point of view, it will humbly accept praise for injecting $4.8 million to improve policing of the region's fisheries. Pacific countries currently lose an estimated $400 million a year to mostly under-reporting of catches.
And, of course, Key can crow about winning over leaders so that New Zealand can host the forum next year in Auckland before the Rugby World Cup.
At which time, there will probably be more head-nodding and universal agreement that, yes, there are problems, and they need urgent attention.