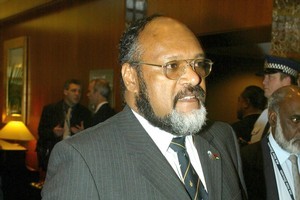 Vanuatu Prime Minister Edward Natapei used to arrive at international borders with his handwritten paper passport and be eyeballed by suspicious officials who asked him, "Vanua-where?"
"The country of Vanuatu is not well known," Mr Natapei said. "In South Africa, for example, I was held up for a couple of hours trying to negotiate my way through.
"The other difficulty is that a lot of diplomatic passports have been issued by ministers ... where ministers have taken it upon themselves to issue and sign the passports themselves."
Yesterday, New Zealand Prime Minister John Key announced a $1 million NZ-Aid project to build a new passport building in Port Vila, Vanuatu, with the technology to make modern passports of a high international standard.
New Zealand aid to Vanuatu for 2010-11 totals $19 million.
The announcement was made in Port Vila in a "ground-breaking" ceremony, which included both prime ministers taking up shovels and ceremonially breaking the ground.
Mr Key said that as well as improving security and protecting identity fraud, new passports would make it easier for Vanuatu's people to travel overseas.
"We live in a world which is more complex these days, where the security of the passport and the integrity of that document is critical," he said.
"They've had a paper-based operation here, which is clearly not world's best practice."
The building, at a cost of $750,000, should be completed in six months.
Mr Key jokingly warned that the new passports would bring complaints from people about their passport photos.
"I get correspondence on that and I write back, 'There's not a lot I can do about that'."
The passports will be used by about 2600 Vanuatu workers who work in New Zealand every year under the Recognised Seasonal Employer scheme.
Mr Natapei said the scheme had changed local attitudes to working.
"We tend to be relaxed and work is not taken seriously.
"People go to their gardens when they want, otherwise they go fishing.
"The gardens are for subsistence, for the household, not for marketing or export.
"Now with the RSE scheme, the way people work in New Zealand has given them another look at the way we work here."
After the ceremony, Mr Key visited a local school.
He was presented with a wooden pig, a symbol of prosperity.