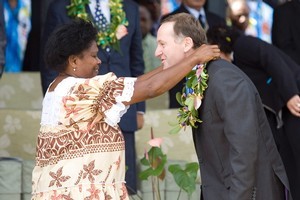 New Zealand will boost the monitoring of Pacific fisheries to help an industry that loses more than $400 million a year because of poor enforcement.
Prime Minister John Key, in Vanuatu for the Pacific Islands Forum, yesterday announced a rise of $4.8 million in aid to the Pacific.
The money is primarily to train observers on fishing boats to stop widespread under-reporting on catches in Pacific fisheries zones.
"If we can make sure [Pacific nations] can enjoy the revenue they should be getting off their single biggest resource, which is their fisheries stock, then we are making a decent contribution," Mr Key said.
Foreign Affairs Minister Murray McCully said about $400 million a year in fisheries resources disappeared into illegal hands. "Most of that is not even vessels that shouldn't be there, but under-reporting," Mr McCully said.
"The World Bank estimates a much higher number than $400 million."
But he said surveillance and other measures such as funding a fishers academy in Kiribati were all part of the overall solution.
Mr Key also announced a doubling of the number of tertiary education scholarships for Pacific people, bringing the number of available scholarships next year to 200.
New Zealand will also open its doors to 200 Pacific people a year on tertiary education scholarships, which will boost NZ Aid investment in Pacific education to $15 million.
Meanwhile, Mr Key rejected comments from Fijian dictator Frank Bainimarama, who said Australia and New Zealand had no place in the forum as they were not Pacific nations and accused them of leading the charge in excluding Fiji from the forum.
"They crept in slowly like the proverbial camel, you know, with their head in, and then the front legs, and then the back legs, and all of a sudden the owners of the tent were out and they were inside the tent," Commodore Bainimarama said.
Mr Key said the forum's stance on suspending Fiji was unanimous.
"The position New Zealand has adopted is in unison with other countries in the forum. We're not leading the charge. Countries in the Pacific want to see Fiji back, but on terms where we are seeing progress towards democracy.
"New Zealand is not alone here and any attempt to portray it as simply an Australasian perspective is wrong.
"I don't think you're going to see a softening of that position from forum leaders until you see progress from Frank Bainimarama."
Earlier forum chair and Vanuatu Prime Minister Edward Natapei said Fiji had breached the principles of good governance and democracy.
"As leaders ... we have the duty and responsibility to remain engaged with Fiji so that democratic principles and practices could be restored in Fiji as soon as possible."
AID BOOST
* Pacific aid is rising by $4.8 million.
* Most of the money will go on training to reduce fish catch under-reporting.
* Funding of tertiary education scholarships is being doubled.
ISLAND AIR SERVICE EYED
The Government is looking into a plane service for the isolated nation of Tokelau which could potentially save lives by securing the supply of goods and enabling emergency evacuations.
NZAid has asked for expressions of interest in building a runway for flights from Apia to Tokelau - a collection of three atolls 483km north of Samoa.
Tokelau has a population of fewer than 1500 people, who are New Zealand citizens.They rely on a 30-to 40-hour sea voyage for supplies.
Foreign Minister Murray McCully said the boat trip was safe, but some viewed it as hazardous, and a plane service could save lives.
"It's going to be expensive whatever we do, so we may as well get it right.
"While officials reported to me that Tokelau didn't want an air service, to commit available funding to a 25-year shipping project and exclude air services for 25 years seemed to me a very big and probably incorrect call."
He said that despite official advice, there was some interest from Tokelau in a passenger service and a medical-evacuation service.
A tender process is under way to find a replacement vessel for the current boat, and NZAid is seeking expressions of interest to deliver an aviation service to Tokelau.