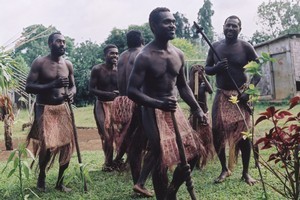 They start off silent and still, waiting for the drum signal to ignite them. There are six groups, representing each province of Vanuatu, and they spread themselves across a grassy stage in front of the leaders of the Pacific Islands Forum.
The theme is unity and partnership, and in a nod to this they all start to perform at the same time.
Each group is distinct. One male group has green leafy skirts, elaborate head-gear - one seems to have a swordfish on his head - and a stick with white decorations that resembles either a flower or a rather inadequate weapon.
The noise level escalates, and it is clear that every forum leader is captivated - even John Key, who yawns in the middle of the show, understandable given that he was woken at 1.30am with the tragic news of the death of Lieutenant Timothy O'Donnell.
The groups all follow a similar theme. They build to a crescendo as their voices rise in unison, and their movements become more and more hostile.
As one group of men, their naked torsos sweating in the tropical heat, reach full volume, they jump from side to side and then towards each other in an intimate circle.
If this scene were a metaphor for the forum, then Fiji would be the group of schoolchildren watching in awe and fascination from a neighbouring field, peeking over the wire fence. Excluded. Punished.
Or perhaps Fiji are completely out of sight, and the children are the leaders of Papua New Guinea and the Solomon Islands, who did not attend the forum.
Speculation is rife that the absence of Sir Michael Somare and Derek Sikua is as much about embarrassment over their stance on Fiji and the Melanesian Spearhead Group as it is for domestic political reasons.
Despite the wild dances and the traditional costumes, Fiji remains like a low cloud over the forum - impossible to ignore, no matter how loud or bright the traditional dancers.