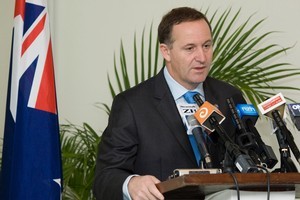 VANUATU: New Zealand will open its doors to 200 education scholarships for Pacific people, as well as commit $4.8 million towards the policing of Pacific fisheries, Prime Minister John Key announcement today.
He made the announcements in Vanuatu while attending the Pacific Islands Forum.
New Zealand already has 100 annual scholarships for people from the Pacific, but that will double to 200 for 2011.
"An educated and highly-skilled Pacific population is vital to future leadership in the region, and critical for economic and social development," Mr Key said.
"This will boost our education investment to $15 million per year. I believe this is a key building block for the future success of the region."
The scholarships will be for tertiary education and will be a combination of full scholarships and student loans, which will be written off if the students return to work in their native countries.
Mr Key said he would look to further increase the number of scholarships in the future.
The funding is made through the New Zealand Aid programmes.
Mr Key also announced an additional $4.8 million for the monitoring, control and surveillance of Pacific fisheries.
Fisheries is a major theme of the forum and considered to be one of the few gems of the region with economic potential.
Foreign Affairs Minister Murray McCully said yesterday it was tragic that small Pacific nations with large economic fisheries zones, such as Kiribati and Tuvalu, were being "raped and pillaged" by illegal poachers.
New Zealand already supports a number of sub-regional fisheries initiatives, including an arrangement with fisheries administrations in several Polynesian countries. It is also involved in a fisheries management arrangement with Kiribati, Nauru, the Solomon Islands and Tuvalu.
The focus of this is on vocational training, better management and private sector support to catch, process, market and export fish.