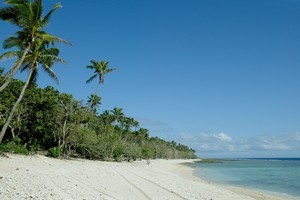 Prime Minister John Key leaves for Vanuatu today to attend the 41st Pacific Islands Forum, where he will announce development initiatives in the Pacific.
The forum, which will run until Friday, is the most important date on the Pacific political calendar, and Mr Key will be accompanied by Foreign Affairs Minister Murray McCully .
Among hot topics will be economic development, the continued suspension of Fiji from the forum and access to small arms and light weapons, which continue to pose a threat to regional security.
Mr Key expected to discuss the idea of an offshore centre for asylum seekers, floated by Australian Prime Minister Julia Gillard, with Australian Foreign Minister Stephen Smith.
Ms Gillard will not be attending as she is in the middle of an election campaign, and Solomon Islands Prime Minister Derek Sikua will also be absent because of national elections.
Mr Key did not think their absences would make the forum a "fizzer".
"There's always usually one leader or two that's not there anyway - in this case one of them's Australia, but Stephen Smith will be representing them."
Mr Key said he did not expect any softening on the stance on Fiji, which the forum suspended last year for the lack of movement towards democratic elections.
He said aid was an important contribution to the region, and he expected it to increase.
"We are building our aid in the Pacific and we'll be continuing to do so, and when we're over there in the next few days we'll have one or two announcements to make in that area."
About $756 million would be spent on development in the Pacific over the next three years, Mr Key said.
It was still his long-term ambition to lift New Zealand's aid contribution to 0.7 per cent of GDP, as recommended by the United Nations.
But he did not expect that to happen by 2015, the deadline for the UN's Millennium Development Goals, which include eliminating extreme poverty and reducing child mortality. Currently, New Zealand contributes about 0.3 per cent of its GDP in aid.
"We won't be more than doubling that in the next five years. We can't afford that and we won't be doing that," Mr Key said.