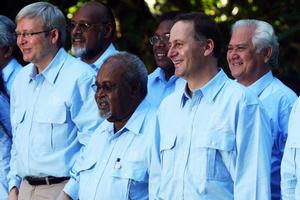 CAIRNS - The leaders of the Pacific Islands countries lined up in the Cairns Botanical Gardens for the traditional "silly shirts" photo this morning - minus the silly shirts.
For the leaders' retreat day of the Pacific Islands Forum, the leaders are usually dressed in uniform shirts in the style of the country hosting the forum. For most Pacific islands, this is a florid combination of flowers and/ or blotches. But this year, the Forum is in Australia - and hopes of embarrassing photos were dashed early when news spread that the shirts and boots would be supplied by RM Williams - the stockman's brand - and leaders had a choice of shirt colour between pale blue or beige.
Every single one chose the blue, making them look a bit like a line-up from a commercial cleaning company.
RM Williams is the boot of choice for Australian PM Kevin Rudd and while he's waiting for the other leaders to arrive he takes the unusual step of walking over for an informal natter with the media.
He has two pairs which he claims can take him anywhere, from Parliament to the rainforest, to the outback.
Eager to share the joy, he's had every other leaders' feet measured for some boots - worth over $300. But only a few turned up actually wearing them. When media look quizzically at Prime Minister John Key's feet - in his usual suit shoes - he mimes back his boots didn't turn up.
After the photos the media are hustled away and the leaders head up to Whitfield House for the retreat. The discussions will centre on a report on the economic impact of the global recession on the Pacific Islands countries, the start of negotiations with New Zealand and Australia for Pacer Plus free trade talks and climate change. Despite comments made by outgoing chair Toke Talagi yesterday, urging Fijians to 'rise up' to challenge the rule of the military-led regime, Fiji is not expected to dominate.
Mr Key began the day by announcing a new NZ Aid scheme for a 'business mentoring' proramme between New Zealand and Pacific companies. No companies have signed up so far, but he's confident there will be interest - saying many companies already have interests in the Pacific Islands.
News of the ferry sinking in Tonga is also likely to be mentioned - Tonga's Prime Minister Fred Sevele is at the retreat and was asked about the details of the incident by Mr Key as soon as the photo was over.
Meanwhile, outside the retreat Australian domestic politics were as peculiar as ever.
The papers are covering international reaction to the Great Camel Cull - a $19 million programme to use air strikes to cull one million camels in the Simpson, Gibson and Tanami deserts.
Comments about the programme on American channel CNBC - labelling PM Kevin Rudd a 'serial killer" and the policy 'camel-cide" - were widely re-reported in Australia itself.