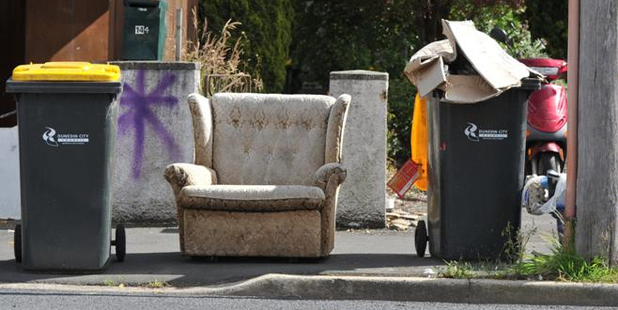 The trail of trash left on the streets by students and landlords in North Dunedin is a "recipe for disaster", a senior Dunedin firefighter says.
Senior Station Officer Lindsay Rae, of the Dunedin Central station said the trash left behind by departing students and other tenants in North Dunedin "becomes too much of a temptation to some of the more unruly members of the area".
"They can't help setting things on fire, which of course is a total waste of our resources and a danger with regard to setting fire to [buildings] close by," Mr Rae said.
Those lighting fires using the discarded rubbish, which included furniture, electronics and bags packed with trash, tended to drag rubbish together to make "bigger lots", which was a "recipe for disaster".
Council solid waste manager Ian Featherston said the problem came around at the end of the academic year and around the new year, when leases finished.
It was not just students who were responsible for the rubbish strewn on the street, with "quite a few" landlords emptying out flats on to the footpath in the hopes the council clean it up.
"They don't want to pay the tip fee so they leave it on the street."
With Dunedin having a "user pays" rubbish system it was not the council's responsibility to clear trash from the street and in the end it was up to the landlord.
"We give them a chance to clean up and if they don't we hit them with a $100 fine or if it's a big mess a [larger] fine."
If no-one could be located it was up to the council to pick it up the trash, which cost it about $50,000 a year across the whole city.
Rates would "skyrocket" if the council had a "clean streets" policy.
"It's up to the people who live in the area to take pride in their area and look after the place. They are just like any other resident ... and they should be treated that way."
Otago Metals Skip Hire worker Allan Johnston said January was a busy time for skip hire companies, with landlords clearing out flats before new tenants arrive.