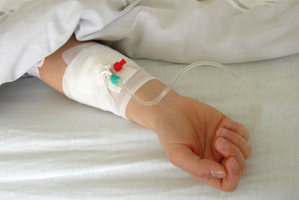 A 5-year-old boy injured in an alleged hit-and-run in Flaxmere yesterday has been transferred to Starship Children's Hospital in Auckland where he is in a critical condition.
The boy, who was hit by a car while riding his bike down a driveway and on to Kingsley Rd, was taken by St John Ambulance to Hawke's Bay Hospital where he was assessed. His condition changed from serious to critical and he was flown to Starship.
When Hawke's Bay Today arrived at the scene yesterday, a family member of the boy said they had come outside to see the boy sprawled on the road.
"We were all inside and then we just heard a bang, so we all rushed outside and he was just lying on the ground screaming.
"We didn't want to touch him because we didn't know how badly hurt he was - by then we couldn't see the car at all."
St John district operations manager Stephen Smith said paramedics arrived to find the boy bleeding on the road with lacerations to his face, body and arms.
Hawke's Bay road policing manager Sergeant Clint Adamson said the car was headed towards Diaz Drive and struck the boy in a dimly lit area, with no witnesses to the crash. A gathering crowd of neighbours may have frightened the driver into fleeing the scene, he said.
"It's possible the driver was not at fault as the boy was coming down the driveway on his bike, however he did stop and pull into Peary Crescent and stop - people had obviously heard the noise and come out of their homes which may have scared him off.
"It was right in between two street lights, so the timing couldn't have been worse, the lighting is pretty poor but not uncommon for a street like this ... it appears to be a low speed accident but if the driver was going any faster it could have been much worse."
Police roading manager Clint Adamson said police wanted to ask the driver why he did not remain at the scene.
"When a driver hits something it is their responsibility to stop and ascertain if someone has been injured."
He said some neighbours claimed the car sounded as if it had suffered some damage from the crash as it drove away.
Police last night continued to hunt for the driver and the car, described as a black two-door Honda.
For more articles from this region, go to Hawkes Bay Today