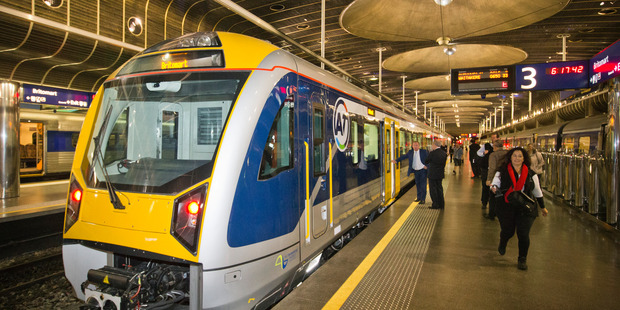 To attract passengers, public transport must be convenient, fast, reliable, frequent, comfortable and affordable. It must also be safe. The importance of this last requirement should never be underestimated. If, for example, commuters feel intimidated by other passengers, they will quickly consider other forms of transport, not least their car. This is happening now on the city's trains, according to the Manurewa Local Board chairwoman, Angela Dalton.
She says that fights on platforms and vandalism are becoming prevalent, and people will continue to abandon the trains until attention is focused on security issues at suburban stations. Incidents of intimidation had included money being sought from old people, she told Auckland Council's infrastructure committee last week. This sort of behaviour was being directed at those travelling on trains as well as those waiting at stations.
The problem has not gone unnoticed. A Combined Safer Network Group, comprising representatives from the police, Auckland Transport, the council and rail operator Transdev, has been formed to reduce such criminal activity.
Security guards have also been hired for a 15-week trial at 10 stations. This ends on Friday, and early indications are that their presence has reduced vandalism, antisocial behaviour, assaults and trespass. Continuing this would, however, be expensive.
So, too, would the formation of a special police force, which Auckland Transport is investigating as a long-term option to improve safety. Transit police are common in other countries. Usually, they have the ability to arrest but with a requirement to hand offenders over to the regular police. Auckland should be able to learn from overseas experience if it decided to implement such a force.
At the moment, however, it is probably too early to consider this. It would be wise, first, to pursue a cheaper avenue, that provided by closed-circuit television cameras.
Surveillance cameras were installed initially to deter burglary, car theft and suchlike. Over time, their use has been extended to include the combating of antisocial behaviour of the type causing increasing concern on the city's trains. CCTV is being installed in Auckland's new electric trains and is present at major stations. There is a strong case for using cameras more extensively, despite some reservations about their benefits over a long period and their impact on those affected by alcohol or drugs. If properly publicised, they are good at deterring crime in most situations, and go some way to addressing the public's fear of crime.
That, certainly, has been the conclusion of the New South Wales Government. Earlier this year, it disbanded the state's force of 600 transit officers. Their 12-year period of operation was not a success, largely because they were denied powers of arrest and were armed only with batons. The police have taken over security on Sydney's trains. But at the same time, the state has announced that it will expand and upgrade its CCTV network to further improve security and prevent crime on public transport. Already, it has 10,000 cameras, and the new system will take advantage of advances in technology to expand their reach.
Auckland can also benefit from such advances thanks to the new traffic operations and incident management centre on Queens Wharf. Its operation should enhance CCTV's ability to prevent crime and deter antisocial behaviour. So would more cameras. That, rather than an expensive transit police force, should be the immediate focus - especially when a 13.9 per cent increase in rail patronage in the latest June year suggests more is going right than wrong on the city's trains.