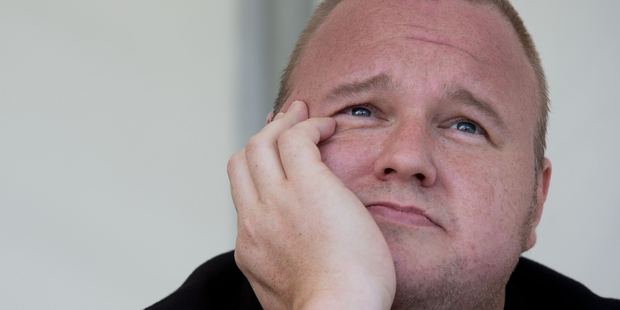 The latest example of life-imitating-boxset came this week in the form of a flashback and a foreshadowed finale. First there was the release of correspondence giving clues to the mysterious decision to grant Kim Dotcom New Zealand residency. But just as we were obsessing over a few days in late October 2010, Dotcom did what any good dramatist would: he threw the action forward, to September 15.
Five days before the election, we are to expect a bombshell. The brilliant, diabolical Mr Dotcom will stage an event at the Auckland Town Hall, at which he will produce evidence that his arch-nemesis, Mr John Key, did, after all, know about him before the eve of the famous testosterone-fuelled raid on chez Dotcom in January 2012.
Dotcom will rise slowly to the stage through a smoke-filled trapdoor, wearing a purple velvet gown over a black zip-up top, gently stroking a Maui dolphin. The crowd will rise to its feet, gasping, as the Prime Minister is dragged into the spotlight by a bevy of burlesque dancers over a looped soundtrack of "why are you turning red, Prime Minister?".
A gasp will ripple through the Town Hall as Laila Harre flicks a switch, projecting a hologram of a gathering on the secret 11th floor of the Beehive, where senior ministers, Barack Obama, Gandalf, and someone wearing an "illuminati 4eva" T-shirt are briefing Mr Key on their masterplan. Something like that.
Dotcom's argument for a while now has been not only that Key knew all about him, but that American prosecutors, themselves under pressure from Hollywood producers, urged New Zealand to allow Dotcom to stay in the country, considering it a good place to snare him for extradition to the US.
That claim looked less fanciful after the latest release of correspondence to the Herald's David Fisher.
Especially eyebrow-raising is a note, in an email from the Security Intelligence Service, saying the head of Immigration NZ, Nigel Bickle, was keen to get a view on Dotcom's residency pronto, and that "political pressure" was in play. Ninety minutes later, the SIS withdrew its objection to the application.
Bickle has given a series of interviews this week insisting, persuasively, that Immigration NZ had not been subject to any political pressure. He couldn't say what was meant by those words.
The prosaic explanation is that the government was keen to get more migrants through the "investor plus" gate -- a category these latest documents suggest might be better named "bad but wealthy", to quote a description of Dotcom from one of the emails.
But the more elaborate theory isn't as grassy-knoll as it might seem. At its crux is the Prime Minister's insistence that he didn't know about the operation against Dotcom -- didn't even know about the existence of Dotcom, a resident in his constituency -- until January 19, 2012.
Who did? At least Simon Power, John Banks, Maurice Williamson, Chris Finlayson, Nigel Bickle, Crown Law, the Ministry of Foreign Affairs. And the police. And Jonathan Coleman, who was Immigration Minister in 2010.
Coleman has been away this week, so has not faced any detailed questions, but he had been informed of the Dotcom residency application, and surely he knew of planning for a joint operation between the FBI and NZ Police. You'd think, really, that he might have mentioned that to the Prime Minister.
Add to that list, of course, the GCSB, who had been surveilling (illegally, it turned out) Dotcom, and the SIS. The minister responsible for those agencies? John Key.
"Officials should be guided by a 'no surprises' principle," says the Cabinet Manual. "They should inform ministers promptly of matters of significance within their portfolio responsibilities, particularly where these matters may be controversial or may become the subject of public debate."
So much for No Surprises. It looks more like No Spoilers.
But while many will struggle to believe the Prime Minister didn't know about Kim Dotcom, it is not at all implausible. The case against him is built on inference and circumstance. Moreover, he has repeatedly given his word that he didn't know. He has staked his reputation on it. If Dotcom has evidence that he did know, it will automatically become a resignation matter.
And that is why, for all the theatrical appeal, it is unreasonable and wrong for Dotcom to withhold this supposed evidence for a climactic campaign spectacular. A big reveal in the final week of the campaign doesn't only lend weight to perceptions the internet-Mana hydra is a Dotcom plaything, that the political party and the Dotcom defence are two sides of the same bitcoin. It also denies New Zealanders information they deserve to know.
If Dotcom can prove that the Prime Minister has bare-faced lied, over and over, the democratic imperative is that he do so now. If Key is not fit for office on September 15, then he is not fit for office today. Dotcom should cut to the chase. Otherwise, the assumption has to be that the great Dotcom bombshell is an enormous political bluff.
Debate on this article is now closed.