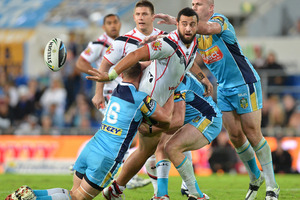 It's been a busy start to the week after last week's bye round and the boys were put through a very tough session on Monday after having enjoyed a few days off over the weekend.
Our second week off came only a fortnight after our first bye but the rest was welcomed ahead of what will be an intense final nine rounds of the regular season.
I went down to Queenstown on Friday morning to do a bungy jump as part of a competition run by the Herald, where readers could nominate something fun for me to do around New Zealand. I really enjoyed myself before returning to Auckland to take in the Joseph Parker fight.
The team is now fully focused on Saturday night's match against the Parramatta Eels, with everyone very keen to get one back on them after they gave us a bit of a touch-up in round one. We've spent a lot of time running through our attacking plays and also doing a bit of conditioning work while the latter part of the week will see us concentrate more on our defensive patterns.
The Eels are unpredictable with dangerous backs but they have some hard-running forwards that we will need to stop first. Eels halfback Chris Sandow has been in great form this season and will need to be watched.
Parramatta are just two spots behind us on the ladder in ninth position and on equal points so both teams will be desperate for the win. The ladder is so congested with seven teams all on 20 points. Coming into the back end of the season every win is going to be critical and a divide will appear over the next few rounds so we want to make sure we're still among the top sides.
The return to action of big Ben Matulino from his knee injury will be a big boost for us and I'm looking forward to following him around the park and hoping he can get away some of his trademark offloads.
He's been one of our most consistent players this year and he causes so many problems for opposition teams and gives us plenty of options both close to the ruck and wider out.
Although we have been getting some good results lately the boys are hungry to keep improving and know we are yet to put in a quality 80-minute performance. Wins over the Broncos and Panthers have been tough but I think those results will put us in good stead for the rest of the season and hopefully the playoffs.