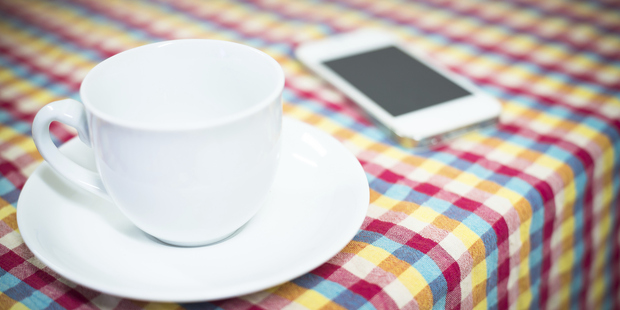 A visiting friend was looking a bit sad yesterday so I asked what was bothering her.
"I've lost my phone," she replied.
That dreaded sinking feeling was almost palpable.
A lot of her personal information such as emails, contacts and photographs were stored on her phone. Now they were gone. No wonder she wasn't happy.
It turns out that she'd put her phone on the table of a café and had got up. When she returned (mere minutes later), her coffee cup was there but her phone was gone.
It's a silly mistake and one that many of us have made. Credit where credit is due. Once she discovered her phone was gone, she searched her personal belongings - there was no sign of it, she retraced her steps in the café - it was nowhere to be found. She even got the café's staff to go over CCTV footage to identify when and who had taken it (it was a busy café so CCTV results were inconclusive).
By the time she arrived back home, panic was setting in. I reminded her that all was not lost. Her phone had Android Device Manager installed (it's found on most Android smartphones running Android 2.2 or later) which has remote phone finding capabilities baked in.
She'd tried calling her phone - no answer. This wasn't too surprising as its battery was almost flat and had most likely died. Either that or the person who'd picked it up had replaced its SIM.
Regardless, her phone was still likely to be linked to her Google credentials. This meant that Android Device Manager should be able to locate, lock or wipe it next time it connected to a mobile or Wi-Fi network.
I logged into the Android Device Manager web portal using my friend's Google credentials. Her phone wasn't locatable. I was beginning to wonder if it'd been factory reset, wiping her Google account. Doing so would pretty much put an end to tracking down her phone.
Just in case the person who'd picked up the phone did try to use it, I used Android Device Manager to lock it with a new password. If the phone's finder switched it on, it'd be unusable unless they were able to guess her password. Setting a pin unlock on your phone's lock-screen is a good idea for this very reason.
Android Device Manager also allowed me to set a message on the lock screen. I set it to "you seem to have picked up my phone. Please text me on xx-xxx-xxxx $ reward". I also set the device name of the phone to the same message just in case.
I explained to her that if we had no joy over the next few days, the best thing to do might be to remotely wipe her phone and to contact her mobile provider.
This would ensure that her phone was blocked and her SIM deactivated. The not-so-bad news was that the phone had a prepaid SIM, limiting her level of financial liability.
I wasn't holding out much hope and my now despondent friend had pretty much resigned herself to purchasing a new phone.
40 minutes later we got a text message from a kind stranger asking if we wanted to meet to pick up the phone. Later that day my friend had her phone back after paying a small reward.
So what take-outs are there from this tale of woe about a lost phone?
Does you phone have a tracker app built-in?
Your phone may already have phone tracking capabilities such as Android Device Manager (or if an iPhone - Find My iPhone) built in. There's also a bunch of third party apps to choose from.
Don't panic
If your phone has done a vanishing act, keep calm. Retrace your footsteps as soon as you discover it is no longer on your person. Use the "ring my device" option if your phone tracker app supports it. You may find that your lost phone was under that sofa cushion all along.
Lock your phone
Locking your phone will keep your personal info and your phone bill safe. You should also have a pin-based lock-screen enabled by default). Also try to locate your phone using your phone tracker software. If you do get an address pass it onto the police and don't attempt to visit to door knock in hopes of reclaiming your phone.
Leave a message on your phone's lock-screen
If your phone-tracking app supports it, leave a message on your phone's lock screen. Giving the finder the option of reaching you on an alternate phone number/email address can work wonders. Any message you leave should be non-judgmental. Also consider giving the option of a neutral and anonymous drop-off venue (such as a corner diary or the café where they picked it up). Doing so gives the person who found your phone the option of avoiding confrontation meaning you're more likely to get your phone back. Small cash rewards can also provide an incentive for returning the phone - they're also cheaper than a new phone.
Assume good intentions
It turns out that the person who'd found my friend's phone saw it on an unoccupied café table next to an empty coffee cup. They'd mistakenly supposed that it'd been left behind. Assuming your phone is stolen and its finder is a thief could taint any interactions with whoever finds your phone. It could also diminish any chance of you getting it back.
Call your mobile phone company
If your lost phone is on a post-paid plan, make calling your mobile phone company a priority. Doing so should limit your level of liability should the person who's found it consume huge amounts of data or make lots of calls.
Play it safe
Although the person who picked up my friend's phone was the decent sort, not everyone may be so well intentioned. If you have organised to meet to retrieve your phone, meet in a public place and go with several friends - remember safety first.