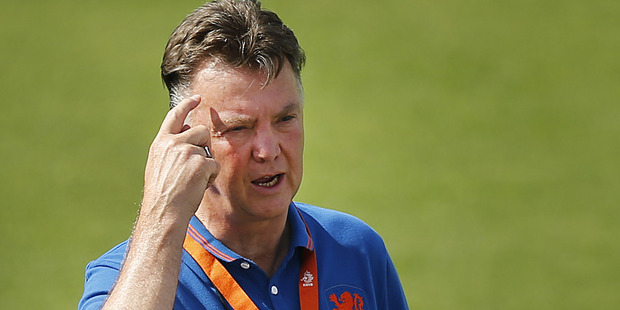 The old man grabs me by the shoulders.
His face is shaped by age, the hot Brazilian sun, possibly a tough life, and judging by his breath and bloodshed eyes, a few too many drinks.
"Holanda tem muito macumba," he whispers in a secretive tone pointing at my orange Netherlands shirt. "Muito, muito Macumba."
A bystander recognises my confused look and translates that the old man thinks that Holland used black magic to make it to the quarter-finals.
Macumba is an underground religion with African roots whose followers use special ceremonies to influence the gods. They can include cachacha spirits, blowing cigar smoke or the blood of a sacrificial chicken.
After watching the Dutch turn around a one-goal deficit with two magical late goals, my new Brazilian friend is convinced coach Louis van Gaal has paid money to a spiritual leader to kill a chicken and speak to the gods.
But the Dutch are not alone.
A day earlier Brazil arguably relied on even more 'macumba' when the Chileans hit the post and the crossbar before losing the lottery of the penalty shootout.
It has been fascinating to see that after years of preparation, qualifying matches, training camps, detailed planning and scientific research, the outcome of these epic encounters so often come down to a tiny bit of luck or the ball hitting the target a few millimeters too far left or right.
From the eight second-round matches, only Colombia beat Uruguay in a commanding fashion, while the seven other quarter-finalists all relied on a dose of good fortune.
Argentina reached extra time because Switzerland butchered several chances to cause an upset, just like Belgium only pounced after Chris Wondolowski had missed a last-minute 'sitter' that would have put the United States in the next round.
France and Germany also realise they are still in the tournament only because Nigeria and Algeria lacked a bit of black magic and a host of scoring chances.
And of course, the Costa Ricans are scratching their heads how they ended up in the quarterfinals in the first place and must feel someone is smiling down on them after their penalty shootout against the Greeks who were deserted by Tyche, the Greek goddess of luck and good fortune.
Costa Rica, the surprise package of the tournament will now face the in-form Dutch who themselves feel that four decades of misery and misfortune at World Cups may finally be lifted.
Superstition and good luck are hugely important in football and especially here in Latin America.
The Mexicans, however, don't think luck had anything to do with their World Cup exit after Arjen's Robben theatrical dive that earned the Netherlands the last-second penalty.
"No me Robben", screamed the Mexican headlines, which literally translates to "Don't rob me".
If you can't rely on good luck, you can always blame the referee.
- Coen Lammers in Rio de Janeiro