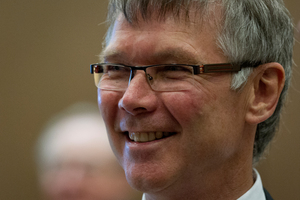 When Michael Cullen launched KiwiSaver in 2007, I went with him on a school visit to Paraparaumu College. He was impressive. He even quoted Suzanne Paul - "but wait, there's more" - when talking about employer and government contributions, causing mild heart attacks to his PR advisers in the process.
I could feel several hundred normally cynical high-school students lean in, wanting to hear more. From an old guy. About banking.
This week, Labour confirmed its plans for KiwiSaver. There is much to like. If you are a future retiree, you will save more money. If you are a current or future mortgage holder, you could make smaller payments.
Universal KiwiSaver, with just a few exceptions, will provide more people with nest eggs and, with them, better retirements.
Increased employee and employer contribution rates mean bigger nest eggs for everyone; $150,000 more on average.
And Labour will create a new tool for managing inflation without pumping up mortgage rates. This is the cleverest move of the lot. When the Reserve Bank wants to attack inflation, it takes money out of circulation. It raises interest rates, which increases mortgage payments.
That can really hurt families, especially when overpriced housing forces people into ever-higher debt.
But under Labour's policy, the Reserve Bank can increase KiwiSaver contribution rates instead of ramping up mortgages . That way, people don't entirely lose the money that leaves circulation. It is just stored away, in their name, waiting until they retire.
Would you rather the Reserve Bank take your money away or put it in your KiwiSaver? That's an easy one. But here's the thing about these kinds of policies: they don't have any impact within one election cycle.
For that reason, elections aren't won and lost on issues like KiwiSaver.
There are always shinier, more immediate problems to focus on. Issues like climate change or superannuation payments have the same problem.
But these are exactly the policies that really transform New Zealand over the long haul.
By the time these KiwiSaver changes have their full impact, David Cunliffe and David Parker will be long-gone from the political scene. The new version of KiwiSaver will have become part of the political furniture. Retirees of the 2040s won't even wonder who to credit for their comfort in retirement.
But somewhere - in a suitably understated Dunedin-area abode - David Parker will be wearing a suitably understated smile.
• Rob Salmond runs Polity, a Wellington-based analytics and communication firm.