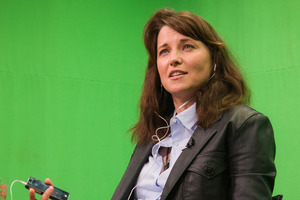 On Monday's rainy night, exactly 110 years to the day since James Joyce's Leopold Bloom supposedly took an odyssey around Dublin, I pushed open the door to the Thirsty Dog on Karangahape Rd and fell into Ireland. Or rather, I fell into what the Jews Brothers Band called "the only Jewish-Catholic convocation in the known world", their chaotic celebration of Bloomsday, crowded by poets, musicians, unionists, sociologists and (other) old codgers.
"Any Catholics here?" asked accordion player Hershal. A few guilty hands. "Any Jews?" "Yes!" bellowed Mike Mizrahi.
While the Jews Brothers sang an ode to K Rd -- "It's got dairies/and a cemetery!" -- the script was by Joyce (and Dean Parker): "A woman ... brought Parnell low (and Len Brown)."
Ulysses was joined by other Grecian references: Iolaus and Xena. "That lady's buying drinks for everyone," said the barman, pointing to a long limb wreathed in "100 per cent OK/Tino Pai" rainbow bracelets and stretched across the pub, expertly balancing a tray of glasses at one end, and attached to Lucy Lawless at the other.
Meanwhile, Michael Hurst -- introduced as "tall, slender and manly" -- embodied drunkenness as Joyce's alter ego, "collapsed Catholic" Stephen Dedalus.
Actual Irishman Joe Carolan -- who usually channels his considerable theatrical talents into devising creative union protests -- played a rabid dog knocking over microphones and musicians across the tiny stage.
Chris Trotter in a cheesecutter sang The Patriot Game ("Six counties lie under John Bull's tyranny") as fervently as if it were a socialist hymn.
But a Joycean line also pleased the mob: "You die for your country ... Let my country die for me."
Who's on next? "Someone -- pick up a script!"
Bruce Hopkins ripped out page after page of his own script, as he vamped forcefully as Bella Cohen, the "massive whoremistress", sporting a "sprouting moustache" (drawn on) and "orangetainted nostrils" paired with an off-the-hairy-chest lace gown and enormous red corset. After his Judith Collins was rejected by Bloom as a "busted flush", Bella's performance of Laila (Harre) to the tune of Lola ("she walked up to me and asked me to enrol") brought the house down.
During Whiskey Bar, even the empties runner got applause for an impromptu jig, burdened with a dozen vessels.
After nearly three hours of slapstick, Lawless finally came up onstage as the faithless, disappointed wife Molly Bloom. Without affectation, she became still, and so did the previously raucous room. It would have been easy at a pub jolly for an actor to self-consciously curl her lip at the naughty bits for easy laughs, but Lawless didn't do that, and her Molly didn't "put on" sexy. Instead, at a microphone in street clothes, reading from Joyce's text, Lawless gave the best live performance I've seen her give. She nailed talking about being nailed.
At the end, Hershal mentioned the K Rd cemetery again: specifically, he thanked Carolan for organising a protest after the desecration of the Jewish graves in 2012. Patriot games? Nah, solidarity's much more fun.