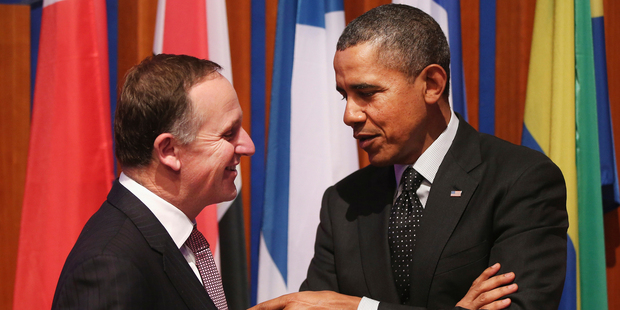 Briefing for POTUS: Official leader meeting with New Zealand Prime Minister Mr John Key, White House, Friday 1100 EST
Country profile: New Zealand is a small, predominantly Anglophone nation in the South Pacific, as big as Colorado, as populous as Kentucky, and as friendly as a Wichita cul-de-sac. A largely agrarian economy, NZ boasts the slogans "100% Pure" and "Land of the long white cloud", both references to their proud reliance on milk powder exports. These "Kiwis" delight in their rugby union football team, indigenous Maori dances, and an independent, non-aligned foreign policy developed under the supervision of senior officials in Washington DC.
Leader profile: John Keys is the prime minister and leader of the center-right National Party, positioned slightly to the left of the DNC. POTUS may remember playing a round with him at Kaneohe Klipper in January. Mr Keys does remember. He makes reference to the occasion just about every day.
Similar vowel sounds, but NZPM is not to be confused with last week's visitor to the White House, Crocodile Dimdee, as POTUS so memorably described him. In stark contrast to the widely loathed Tony Abbott, NZPM remains "as beloved as the bucket fountain", says Darren from the NZ Embassy in DC. Even when performing one of his famous "derp faces", NZPM appears a towering and charismatic statesman by comparison with the "weapons-grade douche" of his Australian counterpart.
Domestic issues: Significant news coverage in NZ this week includes events in Iraq (more below), a hapless opposition leader plunged into scandal owing to a pro forma letter he wrote about a man from China 11 years ago, a teenager's haircut and, dominating headlines, a streaker at a rugby union football match in Dunedin, specifically, his tackle.
A general election will be held in September, and Mr Keys' National-led group is tracking for victory. According to Darren, however, despite National's dominance the contest remains in the balance, owing to an exotic European-style proportional system that merges two classes of representatives: "constituency MPs" and "lust MPs".
Bilateral status: Aside from a few contretemps about nuclear ships in the 80s and stubbornness about joining our successful operation in Iraq in 2003 (the prime minister then was Helen Clark, the one now at the UN that FLOTUS does that hilarious impression of), NZ has proved a reliable friend/flunky. They are an important strategic partner in the Five Eyes alliance, lovingly nicknamed by NSA chiefs as "Little Eye" or "Waihop-Eye".
As part of our "rebalance" to the Asia-Pacific, NZ takes on an important strategic (etc). Mr Keys has faced a series of questions about sending forces to Iraq 3.0, but he's committing nothing, it seems, except for "moral support". Tempting though it might be to ask him instead for an ashtray for our motorcycle, let's just snap a few selfies, talk friendship and move on. Oral briefing on Kim Dotcom extradition to come. Remember to hand NZPM a bag of Peppermint Patties.
Geopolitical influence: Slightly less than Bo. Kidding. Maybe not kidding. Some clout in the Pacific, and as part of our "rebalance" to the Asia-Pacific, NZ takes on (etc). Currently NZ is bidding for one of the rotating places on the UN Security Council, which are excellent perches from which to observe the proper members make decisions. NZ's enviro-credentials are taking a bit of a battering with news this week that they have given the green-light to oil-drilling in a marine mammal sanctuary, home to the endangered Maui's dolphins (there are fewer of these dolphins left, according to Darren, than there are words in this sentence). But they're still likely to get the UNSC seat, if only because the Spanish diplomats have been slumped drunkenly on the sidewalk since the game against Chile.
Trade: NZ is a founding member of US-led Trans-Pacific Partnership (see files "Japan" and "Legacy").
Press conference: To be held in the Oval Office immediately following bilateral. Will be dominated by Iraq (see primary briefing), but introductory remarks should sound like this: reaffirmed relationship pathway Trans-Pacific Partnership shared values rebalance Asia-Pacific regional security interests common democratic values sustained stronger deepening affection friendship values.
Briefing to John: Sorry about getting you to do all that Ukraine swot, looks like it's all going to be Iraq, Iraq, Iraq. Irawkward! Can't do troops or SAS or probably even engineers. Maybe ask the president if Baghdad could use any cutting-edge yacht designers, or litigious retired accountants? Could David Shearer be made some kind of Shane Jones-style ambassador? Exciting times. TPP, obviously. Good luck with that. Small talk: Wow, the Spurs, shame about those Bulls. Oral briefing on Kim Dotcom extradition to come. Everyone back in the office is dead keen for a mug or a tea towel from the White House. Tracey wants some of those York Peppermint Patties, if you can. Promise not to send this note to Newstalk ZB! Won't send it to the White House, either, but reckon they're probably reading it anyway. Kidding. Maybe not kidding. Hi, Mr President.