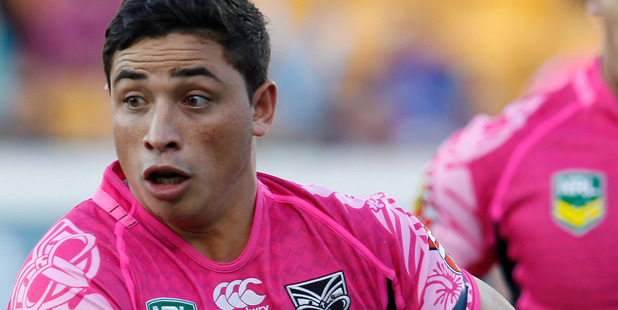 Kevin Locke will soon drift away from the Warriors to play in the UK Super League and I can't help but think what a wasted talent.
When on form, there are few better fullbacks in the world. He has class, talent and speed and a natural ability to do things others can only dream about.
The problem is, those skills have been on display too rarely.
His off-field problems have curtailed his league career meaning he's likely to be remembered as a good player, not a great player. I wish him well in Salford. Maybe it will be good for him. He will be away from scrutiny and might be able to relax into his football.
But I don't think it's a good move for him.
I've seen many players go there and do well but their exploits are often lost because of the limited interest in the competition.
On top of that, when you have baggage, you tend to take it with you wherever you go.
I can't believe the number of talented kids who just don't fulfil their potential.
They don't understand they are on this Earth for such a short time and the chance to play professional sport is only a small part of that.
Players often think there will be opportunities in the future, rather than grasping the ones they have now. They think that if they miss out on a grand final one year, they will have the chance to win in the next.
It doesn't work like that. There are so many things that get in the way - loss of form, injuries, teammates who want it more and are playing better. All of a sudden, the opportunity is gone.
I hope Locke doesn't reflect at the end of his career that he could have done more.
Clubs value character so much more today than when I was playing and it's often the difference between making a move for one player over another. A player's flaws often become public knowledge because of social media and coaches want players they can trust and rely on.
Clubs have a duty of care to try to help a troubled player as much as they can but that offer can last only so long.
If a player doesn't want help, and isn't committed to change, a club's patience will go only so far.
I remember we had a similar situation at the Roosters in the early 2000s around Andrew Walker.
He was an amazing player but often went walkabout for two or three days drinking with his cousins.
Phil Gould was the coach at the time and really wanted to help Andrew but, in the end, eventually had to make a call to let him go.
I have never spoken to Kevin but would love to talk to him about what he is going through.
Whether he would listen or not is up to him but I feel, given my experiences and what I went through, it's a story worth telling.
Players need to be honest with themselves. Are they really doing the best they can every week?
There were many times I questioned whether Locke could answer this affirmatively.
It's common for players to look back on their careers and have regrets.
Many struggle with this.
The Mad Butcher is hosting a luncheon today for past players who are struggling, whether it's financially or with other aspects of their life, with the likes of Kurt and Dane Sorensen, Gary Freeman, Stephen Kearney and Simon Mannering speaking about their experiences.
I'm sure their messages will have similarities and it's something Kevin Locke would benefit from listening to.