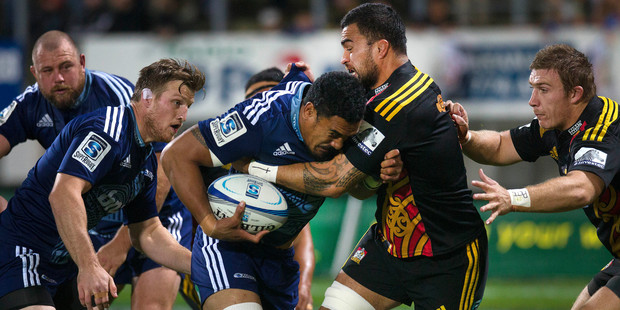 All Black coach Steve Hansen can write a Dear John letter, and not a sad one.
The Blues are down and probably out but Sir John Kirwan has done New Zealand a favour by promoting the sort of players who give the All Blacks an edge other countries find hard to match.
Not only that, they come fresher than most, being spared the arduous business of travelling the globe for the Super 15 playoffs. Blues players get a little sabbatical almost every season.
Not for the Blues the sapping business of lifting for sudden-death clashes. No, the Blues go in for a slow but premature death, season after season, and it is happening again.
Kirwan is shaping as a struggling coach, to be frank, and he's a dodgy selector into the bargain, especially in giving Gareth Anscombe and Malakai Fekitoa away. The Blues lack an ethos, a core, a reliable spirit. They also lack a decent first five-eighth and centre.
This may seem harsh on a young bloke but here we go - Simon Hickey just doesn't have what it takes. He offers little attacking threat at No10, which adds pressure outside him. George Moala is to centres what Sid Vicious was to lounge music. Anscombe is a first five-eighth, a very good one, and Fekitoa is a centre, an exceptional one. Add in the Benji Marshall fiasco, and Kirwan made a right mess of the backline.
Enough of the quibbling, and on another level he's a selector par excellence.
The Blues have a niche, supplying the All Black machine with blokes who run harder, hit harder. They are raw material to make an All Black coach's heart sing. The latest is Patrick Tuipulotu, a big middle-rower who runs like the wind, can spin through tackles and floats through the air. Lock Tuipulotu is so athletic he looks capable of being considered as a utility No6.
Tuipulotu is the Queen City's latest power offering to the mighty black jersey, joining JK's jolters Charles Piutau, Frank Halai, Francis Saili and the once flying, now grounded Steven Luatua. The young wing Tevita Li is the next tank off the rank, and there will be plenty more. They won't all succeed and Luatua is showing signs rapid promotion can come at a cost.
Still, for Blues fans it's just nice to feel useful in some way.
Smith deserves a crack at fullback
Ben Smith is a miracle. By today's rugby standards he is as skinny as a rake. Yet he keeps wriggling out of tackles as occurred a number of times against the Lions. I'd love to see him given a crack at fullback - his true position - for the All Blacks on the slightly emotional grounds that he overwhelmingly deserves the chance. The early money is probably on Israel Dagg, though. Smith got a raw deal last year being shunted from the wing to babysit centre while Conrad Smith was away.
Leave the goalkickers in peace
Ban the rugby conversion charge-down, a pointless act that leads to embarrassing confusion. The Highlanders' victory in Dunedin ended in bizarre fashion with referee Angus Gardner failing to give the visitors a second conversion attempt that could have won the game. Unless the Highlanders have uncovered five Usain Bolts, their initial charge was unquestionably illegal. Some left so early they had time to wander back to the goal line for another crack.
There's no earthly reason why kickers can't go about their business in peace, as they do with penalty attempts. A sparkling try deserves better. When things do go wrong, there are often arguments about exactly when a kicker began the run-up, debates that can't be ruled on easily because many kickers have strange twitches. Why bother. Just scrap the charge-down.
Taranaki loves the Chiefs
The Chiefs' embracing of Taranaki - or is it the other way around - will go well, judging by the atmosphere as super coach Dave Rennie's men surged past the Blues. A TV commentator suggested Taranaki people would find it strange, having been behind the Hurricanes for so long. Fan support is not traditionally so transferable. Those in the province who did back the Hurricanes will, presumably, stay with their team. Or maybe not.
On a similar note, the Blues' attitude to Northland is no better than the Hurricanes' treatment of Taranaki. There has been one Super game - against the lowly Cheetahs in happy-clappy World Cup year - at Whangarei since 2003. Northland has a rebuilt stadium, costing $18.5 million. So what was that line about 2011 Rugby World Cup upgrades being funded by the people, for the people? One nation, four million fans, and all that. Many people I meet in the north don't support the Blues, which is hardly surprising. And the Blues don't seem to care. They treat Northland the way the All Blacks treat the Pacific Islands.
Why keep McFadden waiting?
Andrew McFadden has done enough for the Warriors to deserve his chance as head coach. The "interim" boss has engineered a fantastic turnaround which hit a high note against Canberra on Saturday. It is hard to recall the Warriors running with so much confidence, spirit and freedom.
In just four games he has built structure and grit, allowing the power to flow. McFadden has a 50 per cent win record, after landing in a sticky mess. He should be allowed to go on with the job.A random hunch says he might sign a proper contract this week. And if not, why not?
Tip-on Tomkins proves his worth
I've turned into a believer, in Warriors fullback Sam Tomkins. It's hard not to after his fabulous playmaking against the Raiders that included two wonderful tip-ons for tries. The high-priced Englishman is yet to prove the total package but is on the way. One suspects a blooper is always in the offing with Tomkins - but he won't go close to matching Manu Vatuvei in that regard.