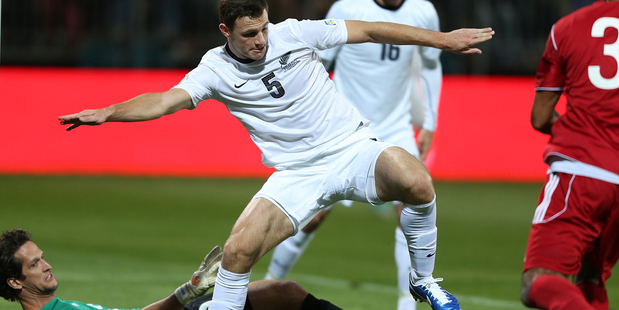 To play or not to play for the All Whites is a hot topic, and I'm firmly on the side of absent players. And please, hear me out before screaming that I've gone soft.
I'm as loyal as the next person to New Zealand's cause, so this is not a sign of disrespect to the All Whites' shirt.
But our overseas professionals face tricky situations protecting their careers.
Winston Reid, Tommy Smith and Chris Wood will be absent when the All Whites take on South Africa in Auckland late this month.
Instead, they will be rejuvenating in the English off season. And this, among a few other cases, has reignited the debate about loyalty.
The toll on these players is very high, and they have a relatively short time in which to make or break their careers.
There is no respite either, unlike what occurs in New Zealand rugby, where superstars such as Richie McCaw and Dan Carter get sabbaticals along with virtual guarantees they will walk back into the national team.
Could you imagine Wayne Rooney, Lionel Messi or Cristiano Ronaldo telling their club "I'm going to take six months off - keep my place because I'm going fishing"?
I think many New Zealanders do understand the pressures, but there are also those who don't. What must be realised is that a professional football player's life is incredibly tough and competitive. Yes, they are well rewarded financially, but they are also under great physical and mental pressure both on and off the field.
Peer and fan pressure is enormous. There is also pressure through competition from within a squad and transfer talk. A player's contract is affected by various aspects - appearance money, position in the league etc.
This is not a new situation - the great Wynton Rufer would have played many more games for New Zealand, but he had to balance international commitment with Werder Bremen's campaigns in the Bundesliga and European competitions.
Today's football is even more cut- throat. And I say all this as a player who came from an era when we would happily play for free, and virtually did at times. In the early 1982 World Cup qualification games, we were on $5 a day. There were long tours then, and players were often left out of pocket and relying on an understanding boss. Most of our overseas professionals were in Australia then, so it was easier to assemble the national team.
But, as I have said, we all need to move on from the thinking of those times and there are some benefits for a national coach being able to blood new players in the lower rated internationals.
The next time a player withdraws from the All Whites, don't automatically question his loyalty or even rely too heavily on how he is quoted. He will be in a dilemma. His actions and maybe even words will be designed to protect his professional career.
But deep down, the desire to represent his country with pride will burn as deeply as ever.