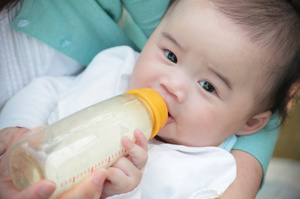 China's open market for infant milk formula came to a juddering halt on May 1. Just how juddering became apparent this week when a New Zealand official told our exporters that his Chinese counterparts had backtracked on an earlier assurance that all formula produced before May 1 could come into the country in the interim.
Only six of New Zealand's 13 milk formula manufacturers have gained registration under China's new regulations for the industry. Some of the others have been building stocks here or in China on previous advice that the new regime would allow a period of grace. Not so, said a notice from China last Sunday.
"That was a very disappointing piece of news and was out of the blue," said the Ministry for Primary Industries' director of market assurance, Tim Knox. New Zealand Infant Formula Exporters' Association chairman Michael Barnett expects some of his members will have product held up at a Chinese border as meat exports were last year.
New Zealand should not be caught on the hop like this. We were the first country to negotiate a free trade agreement with China and until last year we were China's most trusted source of baby formula. Our exporters and trade officials should be as close to China's border bureaucracy as it is honestly possible to be.
"Honestly" is the operative word. New Zealand's culture of straight dealing is worth more to all of its traders than the most lucrative market for a single product. But with that proviso, our officials should have been up with the play. China's intention to regulate its domestic infant formula manufacturers has been apparent since the melamine scandal of 2008.
It aims to restrict the market to suppliers who have "clear control" over the manufacturing process, which could exclude about 50 New Zealand companies that export branded products manufactured by others. The total value of their exports is just 10 per cent of the $200 million New Zealand earns in sales of infant formula to China annually, but they should not be abandoned. They have about 70 of the 150 brands exported from New Zealand.
Their brands suffered badly from the botulism false alarm last August, an incident which shows the risk of putting so much of the country's milk through a single processing company, Fonterra. The problems the exporters' association continues to report from the botulism scare show how hard it is repair the damage even a false alarm can do in a market the size of China.
It is little short of a national disaster that Chinese consumers now rank New Zealand dairy products as less safe than those of Australia, Canada, the United States and Europe. That was the finding of a survey by Massey University in the city of Lanzhou in northwest China two months after the botulism scare.
In March the Prime Minister made a well-publicised visit to China specifically to remind the country botulism was a false alarm and to promote New Zealand's record in food safety. The fact that fewer than half of New Zealand's infant formula factories have gained the new Chinese registration might be an unfair measure of the visit's achievement. Bureaucracy is slow everywhere.
But exporters could have expected gentler treatment in the transition. Those who took China at its word have stocked up with formula made before May 1. They now have cause to wonder whether our Government and its officials are as close to China as we are given to believe.
They should have ensured this country's dairy production standards were properly recognised and capable of enforcement in brands that buy the manufactured products. We need China to realise that a false alarm is false. The gold standard is still here.