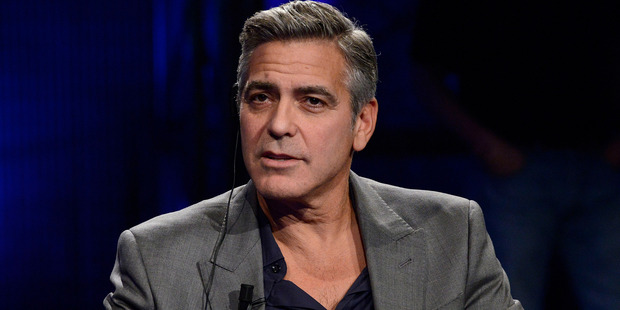 Among the many things that happened in the world last week that I'm not vaguely interested in - anything to do with Sonny Bill Williams, anything to do with legal highs, anything to do with Maurice Williamson's renovations - may I please add the announcement that George Clooney has become engaged.
Am I the only woman in New Zealand who does not find George Clooney attractive or interesting? Jeez ladies, don't all shout at once. But first, I am offended by the treatment of his fiancee. Her name is Amal Alamuddin. She is a Lebanese-born lawyer with a distinguished career in the human rights field. Good for her. Snazzy CV. But there is no need for Clooney to be treated like he deserves the Nobel himself for picking a woman who is academic.
And no, his engagement is not "a vicarious triumph for all the single ladies out there, all the smart, accomplished, ambitious, single ladies" as one New York paper claimed.
Maybe if Ms Alamuddin had, say, looked like Doris Lessing, her choice as the future Mrs Clooney would be mildly daring. But instead of making women feel liberated, it seems the new high-status babe must not only have high-level good looks but must also be a high-level adviser to Kofi Annan.
Get working on that thesis, Paris Hilton. I suspect if George Clooney really was a "sapiosexual", that is, someone who is attracted by intelligence rather than physical attributes, he probably wouldn't have dated a Vegas cocktail waitress and a professional wrestler.
But as I said, I don't find George Clooney enticing even though I am a gerbil.
Man, that was a strange sentence to write. No, I didn't even know being a gerbil was a thing, but according to the Urban Dictionary a gerbil is the opposite of a cougar, ie, a woman who prefers older men.
I don't just prefer them, I consider myself something of a connoisseur of the genre. I used to like older men when I was young. Now in my 40s I guess I'm old, too, but that's okay, because men get older and craggier, too.
Watch: George Clooney is engaged
There is a certain rocky physical schema in a man that I feel quite proprietorial about; a sign I have superior taste, like appreciating Fernet Branca or bridge or the music of Schoenberg. But pretty boy Clooney, despite his status as the world's premiere silver fox, is a lightweight when it comes to older man gravitas. Exemplary samples of the genre; Geoffrey Rush, Alan Rickman (that voice!), Sean Bean, Bill Nighy, Harvey Keitel more recently, Bob De Niro, and the wonderful Bob Hoskins who died last week.
There is also a sub-genre of slightly camp older men who are devastatingly attractive - be still my beating heart, John Hurt, although some of the best are dead just now - Bob Peck, Michael Gambon, Jeffrey Bernard, Peter O'Toole.
All of these guys have professorial-tenure coolness that makes George Clooney look a bit feeble. But getting back to me, as shamefully I tend to do, I used to worry whether my outlier taste in men was because I had a bad case of the DIs (Daddy Issues) but after four years of therapy even Jung would have given me a clean bill of psychological health.
In fact, he might agree with me that there are sound reasons why older men are attractive. There are the obvious advantages: opening doors, not living in student flats with dirty mattresses, knowing what they want, being less inclined to tolerate drama and conflict.
But the main attraction is that most older men have an awareness of their mortality and a vulnerability that only develops in the furnace of affliction.
Every interesting older man will have known failure, reversal of fortune, decline and death of their parents, loss, grief, ego-denting career setbacks, company failures, disappointments.
Oops, better not forget, for many, a brush with prostate cancer. They will have had an existential crisis or two and if not exactly made peace with their mortality, at least will no longer be deluding themselves and their huge egos that they will live forever. (Send the memo to Jeremy Clarkson and Charles Saatchi.)
The best ones will have learned what matters; how to love and be loved. Like all interesting people they are aware of death, the fragility of life and the absurdity of being alive. Our bodies are frail, happiness is delicate and beautiful moments matter more than beautiful abs. You don't have to be George Clooney to know that.