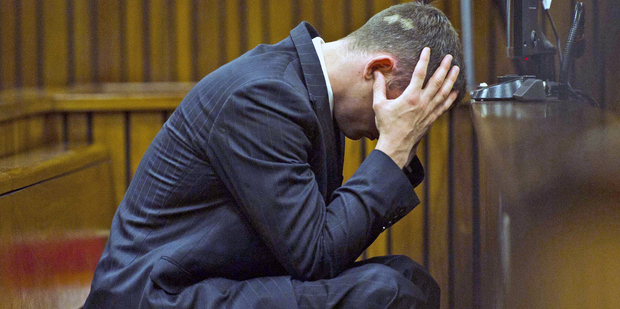 Perhaps it was simply the result of one claret too many, but I was startled at a recent dinner party by an explosion from my host.
"He's innocent," my host exclaimed, standing and banging the table, when after hours of standard discourse as to politics and sport and sex, conversation inevitably turned to the trial of Oscar Pistorius.
We scoffed. I thought my host might be assuming devil's advocate for the sake of group debate. To actually engage with a sound-minded individual who believes in Pistorius' innocence was almost too flabbergasting to stomach.
It's easy to trivialise life and death over dinner an ocean away, but the blade runner parties seem intent on providing dessert. As if a standard murder trial weren't dramatic enough, the Pistorius players are outdoing Wells and Olivier in a made-for-TV epic.
We have now had vomiting and sobbing and wailing in court, the reading of particularly excruciating poetry, and a prosecutor whose cross-examination theatrics would shame his American contemporaries.
All the soapy grandeur makes sense however, if this week's allegations are proven true. At least one South African newspaper claims Oscar may have taken acting lessons before the trial began.
My host's reasoning rests on the stuff most of us can't see. The society in which Pistorius lives — the nuts and bolts of life that don't play out in court — is another world to most of us. Marked by inequality, violence and fuelled by fear. Fear may or may not be justified but in that life, it's often legitimate.
The weight of global dinner party opinion may be against him. Although Oscar Pistorius is a gross, angry and reckless individual to many, the verdict still rests in the hands and mind of one woman. A jury might reach one decision, a judge quite the opposite.
There's still every possibility the blade runner will get off murder. That would be drama, indeed.

• Jack Tame is on Newstalk ZB Saturdays, 9am-midday.