The Government will be watching nervously as the third and final power company float hits the market today. Greg Fraser, senior analyst at Mint Asset Management explains.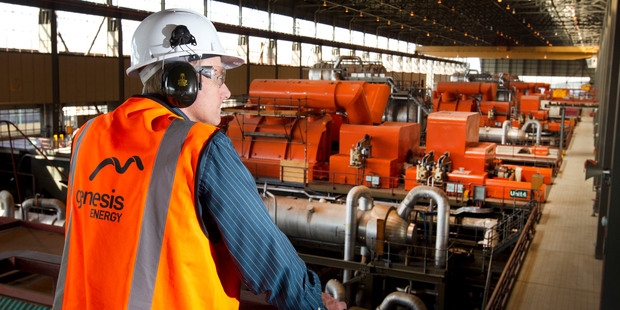 Genesis Energy joins Mighty River Power and Meridian Energy as a listed entity today. But for the Government calmer international waters would have been preferable for a big float like Genesis, particularly as so many small investors have been encouraged to take part.
There are other risks on the horizon for the electricity sector with the looming general election containing a rather large fish hook in the form of the Labour Party's proposed changes to the industry.
There is a paucity of detail about how the policy would work but some analysts have broadly put the negative impact on Genesis Energy alone at up to $650 million.
The company's equity is valued at approximately $1.6 billion so that change would be a major blow to the value of the shares and would punch a sizeable hole in the value of the Government's remaining holdings in the three power companies.
It explains why trading in the shares of the power companies has been subdued so far this year as investors play a waiting game.
The government has tried hard to sweeten the deal by offering bonus shares for investors who continue to hold the shares for more than 12 months.
The company has also put a fairly generous dividend policy in place that will give investors a gross yield of 11.5 per cent in the 2014 financial year rising to 14.3 per cent in 2015. Compared to a typical 12 month bank term deposit rate of around 4.0 per cent, the dividend yield is very attractive.
Genesis Energy does have some earnings appeal as it is the country's largest retailer and has a strong portfolio of generation assets. It also has a 31 per cent stake in the Kupe Gas field which supplies natural gas to the Huntly power station owned by Genesis. That stake is worth approximately $420 million.
In addition, Genesis has more thermal power generation capacity than its peers and is less reliant on fickle weather patterns to fill hydro lakes. When New Zealand doesn't get enough rainfall, Genesis benefits by providing its thermal capacity into the electricity system which can be sold at good prices.
New Zealand's electricity market is reasonably complex given its geography and its current regulatory settings. Those regulations may change under proposals put forward by the Electricity Authority and the outcome of this process is uncertain.
Overall, however, the company itself is a well-run entity and has plenty of scope to grow its earnings in a highly competitive market. On Thursday when the shares trade, if we have a reasonably good day internationally then you should see the shares trade at that level, maybe a bit higher.
Greg Fraser is senior analyst at Mint Asset Management.