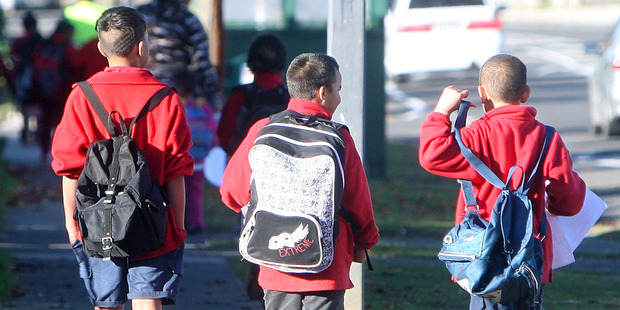 So. I was once a teenage stalker.
I went to the Melville High School reunion last weekend and a fellow alumni kindly reminded me I had turned up at her brother's house distraught with unrequited love in the middle of the night some time in 1982.
Oh, the shame.
Thankfully the object of my affection was not at the reunion because he lives in Britain. At least I think that's what his sister said; it was rather loud.
Me: "Gosh, he's a Cabinet minister! I always knew he would do well."
Her: "No, he's a cabinet-maker."
Me: "Oh."
School reunions would provide rich data for anthropologists studying human status-displaying behaviour.
I tried to think of some way to say "So what do you do?" that didn't sound so much like "So what do you do?".
Anyway, the question was pretty much redundant; everyone seemed to work for Fonterra.
But it did make me think that although my unfortunate cray-cray tendencies mean I have blocked out most memories of my high school education, maybe it wasn't so bad after all.
At Melville High, a bog-standard Hamilton state school with a decile rating of four, there was a surprising tolerance for eccentricity because it was a melting pot of all types of people, rich and poor, fancy and not-fancy, academic and sporty, liberal and conservative.
There was not much in the way of diversity from immigration in those days, and the curiously obsessive attitude to sport could be oppressive, but the school did a respectable job of catering for all kids, including clever kids who happened to be born into non-privileged backgrounds.
We had good teachers too.
There was one gay English teacher, who was inspiringly staunch for the days before the Homosexual Law Reform Act.
And a great drama teacher who cast Calvin Tuteao, now a renowned actor, in a controversial play about Maori radicals.
There was Harry Mahon, our geography teacher, who went on to become a famous rowing coach, a super-nice guy known for fostering technique rather than aggression in his crews.
Although people who choose to go to their high school reunion are, by definition, a self-selecting sample - goody two-shoes who enjoyed school probably - looking around the table 30 years on, these seemed to be a fairly successful bunch.
The sad thing is, I doubt many of these professional people will be sending their own children to Melville, or its equivalent. The local state school used to be where everyone went, but not any more.
In Hamilton, Melville is not the only state school affected by the polarisation in which middle class people congregate only in certain schools.
Another school, Fairfield, which had a more academic reputation than Melville, has been affected by "white flight" and its roll has fallen to 700.
Education has become a desperate middle class scramble for status, rather than a quest to actually learn something, grow up and rub along with other people.
I'm inclined to agree with billionaire Peter Thiel, one of the original investors in Facebook, who said education has become a status game, "purely positional and extremely decoupled" from the question of its benefit to the individual and society.
Thiel believes education is the next bubble in the United States economy.
"Nowhere is the blind complacency of the establishment more evident than in its bovine attitude toward academic degrees: as long as my child goes to the right schools, upward mobility will continue."
A fancy education has become a very expensive insurance policy, leading to a situation where the winner schools take all the spoils.
Underlining that trend, new figures from the New Zealand Qualifications Authority show a handful of schools are increasingly dominating scholarship exams.
The same eight schools have topped the exams for two years running, and last year increased their share of the awards from one in five to one in four.
If you don't go to a top school, your chances of getting an academic prize are limited.
This schism between schools is problematic, not just for the bottom schools which miss out on a broad range of students, but also for the kids at elite schools who don't get the benefit of learning to get along with all sorts of people.
And I hate to think what the status signifiers will be like at school reunions in the future.