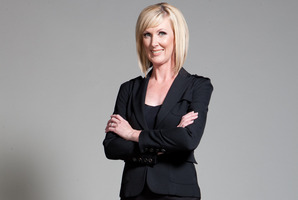 "Dowdy and matronly." That was the verdict from one fashion blogger, dubbed LizaG, on the Duchess of Cambridge's appearance at a state reception this week.
She was just one step away from calling Kate a lardo and a heifer - the descriptions broadcaster Rachel Smalley applied to New Zealand women.
In the battle of the bulge, it seems women are their own worst enemy. To describe the extremely slim Duchess as "matronly" is ludicrous. To describe all women who weigh more than the average 72kg as "lardos" is grotesque and lacking all perspective.
And, in the latest insult, the Herald on Sunday reveals the organiser of a bikini contest has told participants to lose weight in order to compete with their slimmer international counterparts.
Ahead of next month's final, Miss Bikini New Zealand director Katrina Turner has reprimanded the 17 contestants for weighing more than overseas models.
"Some of them have gained a little bit too much weight," Turner says. "I don't want them to be just girls from New Zealand, I want them to be the girls."
Aged 18 to 25, the contestants are encouraged to lose weight by eating well and exercising, she says, but there are no support structures should they turn to unhealthy weight loss methods. "This industry is based on criticism - it comes with the territory, it comes with the glory ... It's not my responsibility how these girls interpret these things. I want my girls to be the best."
Turner, herself, is just 24, blonde and blue-eyed, a lithe 173cm tall. According to her website, she spent her childhood in Russia as a competitive gymnast, before embarking on a modelling career in New Zealand at the tender age of 15. She has competed in and won more beauty pageants than most of us knew existed. Turner won Miss Bikini NZ in 2012; now, she runs the contest.
She might argue she knows what she is talking about, when she tells "her girls" they need to lose weight.
The trouble is, many of these contestants are little more than girls, still in their teens. At other pageants, like last night's Miss Junior NZ, the contestants are as young as 10 years old.
Miss Junior NZ is run by Collette Lochore, a former Miss World NZ, who is adamant her contest does not judge girls on appearance. Last night's winner, according to the website, was chosen because she was "an exceptional role model and poses characteristics such as poise, grace and true inner beauty".
But when New Zealand girls are being taught how to walk in high heels and put on make-up before they're even in their teens, it is clear we are teaching the wrong things about what is valuable in life.
It would not be right to place all the blame at the stiletto-clad feet of LizaG, Rachel Smalley, Katrina Turner and Collette Lochore. These women are guilty only of crudely enunciating these unhealthy and sexist values in public. The real problem begins in our homes.
Kiwi parents teach their kids to excel in sports, study and the arts. Why, then, do some mums still teach their daughters how best to apply lip gloss?
In 1893, we were the first nation in the world to tell women they were smart enough to vote. In 2014, it's time to tell them they are smart enough to stand on their own two feet, without the aid of high heels and crash diets. And that message must come first from other women.