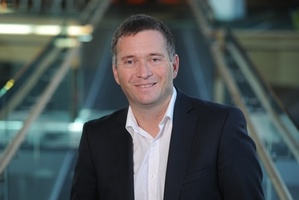 In the ultra-competitive telecommunications industry, standing still equals going backwards. This has seen the pace of competition intensify in the industry as telcos turn to innovation to retain customers.
I caught up with Chris Quinn, CEO of Telecom Retail to discuss how Telecom is moving forward and evolving.

PP: Adding free wifi and premium Spotify to selected mobile plans was a pretty smart move, what factors led to both being added?

CQ: This is really about us stepping back, looking at where the technology is going and what our customers tell us they value, and then acting on that.

Both the partnership with Spotify and the free wifi network are examples of how Telecom (soon to be Spark) is moving from occupying the traditional telco space to becoming a provider of mobility and entertainment.

Our customers tell us that while they still value voice minutes and text, what they're really after is more data. By giving them access of up to 1GB of free data a day over wifi we're opening up what they can do with their devices by making their data on their mobile go a whole lot further.

We also know that our customers love music - 48% of Kiwis now access music through their smartphone - and so our partnership with Spotify was inspired by New Zealanders. We've loved the response from customers to the free Spotify Premium subscriptions, which gives them access to over 20 million music tracks on their mobiles.

PP: How has uptake been so far?

CQ: Wifi has taken off since we officially launched it last October (we'd been running a free trial before then).
We now have close to 350,000 registered users, with new users signing up all the time - this is double what we had at launch. 5% of all data on our mobile goes over this network now.

Spotify has also been successful with uptake exceeding our targets and expectations. The numbers are commercially sensitive on this one I'm afraid, but let's just say it's been strong.

PP: Using payphones as wifi hotspots is also a really clever move. How big is the wifi network?

CQ: Yes, the payphones - long considered a legacy piece of kit - are symbolic of what we're doing with the brand - taking the strong legacy we have as a company and then revising it for today's customers.

We currently have over 900 wifi hotspots located throughout the country and have plans to add more over the next few months.
It's a story that began in the aftermath of the Canterbury Earthquakes, when the team deployed wifi in phoneboxes of suburbs that had extended power and cable outages, its cool that this innovation launched the full story we see now.

PP: Has wifi use impacted on mobile data revenues?

CQ: At our half year results we shared that mobile usage revenues had increased 4% and 108,000 more customers had joined our network, so including wifi in the plans over $19 has grown our business.

PP: Will Telecom eventually move to a faster wifi standard such as 802.11ac?

CQ: We've been trialling 802.11ac on several phoneboxes since Christmas throughout Auckland and we have plans to deploy this faster wifi standard on a larger scale in the next few months.

PP: Are you a regular Spotify user?

CQ: Absolutely! I have a bunch of playlists saved to my Spotify account and plug in when I'm out and about, or on a training run, I think I have 1800 plus songs downloaded right now.

PP: What music are you currently listening to?

CQ: Funny, I am a bit old school, Springsteen, Cold Chisel and so on, but I love that Spotify prompts me to listen to new stuff, and playlists that keep getting added to, my kids are relieved some new music is appearing!

PP: What's your favourite Spotify Premium feature?

CQ: The ability to download a playlist over wifi so that you can plug in and listen to your tracks while out and about without needing data, and the Discover function - gives you suggested artists/albums to try out based on insights from previous searches and playlists that I have.

PP: What about wearable tech? Do any stand out in particular?

CQ: Wearable tech is no doubt going to be huge for our customers. Personally, I'm a fan of the Samsung Gear and I'm looking forward to getting my hands on new models, the Gear 2 and Gear Fit, both coming soon to our customers. We've seen the emergence of some incredible wearable devices from our partners, and we're really looking forward to making these devices available to our customers so they can get on and do more with mobile.