McKinnon tragedy highlights dangers of reckless tackles and the effect they have on all involved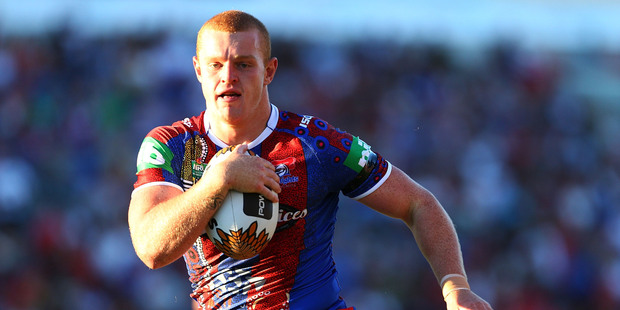 In sport, it is often the small moments that decide the outcome of matches.
Over the past week in the NRL we have also learnt it need only take a small moment or mistake to define the careers and the lives of those playing the game. And it is in these moments we realise how inconsequential the score really is.
It has now been over a week, but the sickening footage of Newcastle Knights forward Alex McKinnon crushing his neck after being upended in a three-man tackle against the Storm gets only harder to watch as the full extent of his injuries hits home. In the past 36 hours reports have surfaced that McKinnon has been diagnosed as a quadriplegic and may never walk again, although this has not been confirmed by the Knights or McKinnon's family.
In collision sports the threat of a player suffering serious, even life-threatening injuries, is always there, but it doesn't prepare the sport for the shock when it actually happens. What many find difficult to come to terms with is on the scale of reckless tackles, the effort on McKinnon seemed more clumsy than brutal.
It was a tragic combination of dodgy technique and horrible luck.
What was a split second of stupidity on the part of the tacklers has had an earth-shattering outcome and drastically altered the course of this young man's life. McKinnon's league career is over and he is facing a battle exponentially greater than what he ever experienced on the field.
The shocking incident will also no doubt drastically alter how the NRL deals with dangerous play on the field in the future, with league bosses under pressure to impose tougher sanctions on players involved in reckless acts. Now we have been reminded of the devastating consequences of these tackling techniques - for both the tacklers as well as those on the receiving end - the NRL need to carefully consider their next move.
There have been a number of suggestions over what tough new measures the NRL should impose on players found guilty of lifting in tackles, from automatic red cards, lengthy suspensions and massive fines on the individual. These are all worth investigating.
Whatever the NRL can do to deter dangerous play is ultimately a good thing, but it won't do the sport any good to make an example out of the players involved in the McKinnon tackle.
Storm front rower Jordan McLean will face the judiciary tonight over his role in the tackle. Regardless of what McLean's career holds, he will be forever linked to this incident.
The NRL have a duty of care in his case as well.