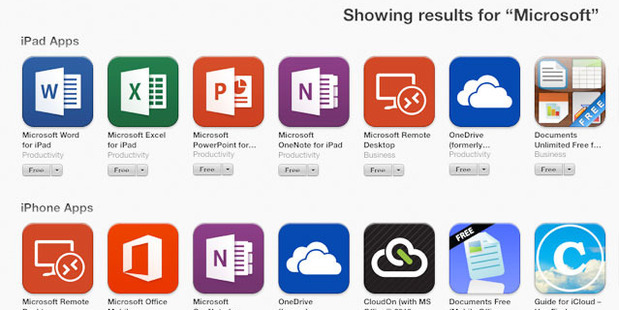 And it's on iPad. Often threatened - or should I say promised - over the last couple of years, former Microsoft Steve Balmer didn't seem to be able to bring himself to actually let Microsoft apps for iPad happen. But now, with a new man in his place, we have liftoff.
It might be nice for you if I could say all three Office apps (Word, Excel, PowerPoint) that have just made it to iOS have the same look and feel, and 'robust capabilities' as the Office apps on Mac and PC, but I haven't used any of them for over a year-and-a-half so I don't know. That's what Microsoft claims, and it seems reasonable enough to expect, with the exception that the Office iOS apps don't yet support printing. Microsoft says 'Oops, don't worry, it's coming' or better-spun words to that effect. Apparently it doesn't mean the iPad suite is intrinsically unable to print, or that it has trouble connecting to Apple's own AirPrint service. The suite's three apps (Word, PowerPoint, and Excel) simply don't have the print function yet.
But that shouldn't be the deal breaker. For now. Office acolytes will appreciate having access to their favourite apps on iPad. Let's face it, many iPad users have PCs, rather than Macs, on their desktops and it must be a bit of a wrench using something entirely unfamiliar to process words, crunch numbers and present presentations once on the iPad, even if perfectly good alternatives (including Apple's own Pages, Numbers and Keynote) are available.
More to the point, it's document transfer between Office apps for desktop and the Office apps for iPad that people will want more than anything else, and this can all be handled by Microsoft's cloud bundling of 20GB storage into its subscription set.
And yes, the iPad apps are popular already. Microsoft's productivity iApps vaulted to the top of the free iPad apps chart in hours last Friday, in the US anyway, with Word, Excel, and Powerpoint taking first, second and third places, respectively, and Microsoft's free OneNote note-taking app in fourth. That's a pretty auspicious debut.
But there's thunder clouds up there. The free versions of Office for iPad all work fine. But only as viewers: you need to spring for an Office 365 subscription to actually edit or create files. An Office 365 Home subscription costs NZ$165 per year with usage rights on up to five PCs/Macs and five mobile devices included.
Apparently Microsoft plans to roll out a c$110 per year Office 365 Personal subscription later this spring, to work with a more modest one desktop/one tablet, and there's an iteration called University that allows for two PCs and two tablets.
The availability model, once you have these free Office apps for iPad, lets you purchase 365 subscriptions inside the apps. That paints 'freemium' in a new light, and don't forget Apple will take 30% of every one of those in-app purchases, as it does with everything else in-app and handled through the App Store. So even Apple has been pretty enthusiastic about welcoming the Microsoft apps - it could lead to a lot of turnover of in-app purchases for both Microsoft and Apple.
Apple and Microsoft had a little fracas last April on the issue of whether or not Apple should get a 30 per cent cut for SkyDrive storage space purchased via the SkyDrive app. Apple has always maintained that any goods or services sold through iOS apps needs to use the in-app purchase system created by Apple with that 30 per cent cut ... perhaps protracted negotiations were part of the reason Microsoft Office iPad apps seemed so long in coming. A compromise appears to have been reached, thankfully, for Office whereas with SkyDrive, Microsoft eventually just removed the option to purchase additional storage space through the SkyDrive app completely.
An Office 365 subscription means you can edit and create new documents on iPad, and when you edit a document, "you can be sure that you won't lose any content or formatting". That's easily the best reason to get Office apps - exchange between Office docs and other third party apps - including Apple's iWork apps - can be imperfect. A 365 subscription also guarantees always-up-to-date versions of Office for PC - and Mac. Note there's rumoured to be a new version of OfficeMac coming out soon, as an added fillip.
But be prepared for Microsoft's complicated approach to techno-catering: there are 12 different versions of 365 subscriptions. Twelve! At this you'll either be utterly delighted, or utterly bewildered.
According to figures Microsoft New Zealand has, 39 per cent of iPad users polled in Australia said they'd get 365 subscription. That seems rather generous, but inroads into corporate and banking sites might mean this is feasible. I guess. The same text from Microsoft NZ reckons there are 400,000 iPad users in New Zealand, which is an interesting figure. Certainly Apple has never said anything like this for NZ, at least that I've been aware of. (Since Apple has said nothing about sales.)
All in all, things seem to be warming between the two big tech companies. The last few years has seen Apple staying stanch while Microsoft's approach under Ballmer could better be termed 'combative'. Microsoft under the leadership of new CEO Satya Nadella might be a whole new ball game. Here's hoping, since the companies have done some wonderful things together in the past. And it certainly paints the whole 'Mac vs PC' debate in a new light - it's all about services now, and being able to initiate or continue work on a mobile device.