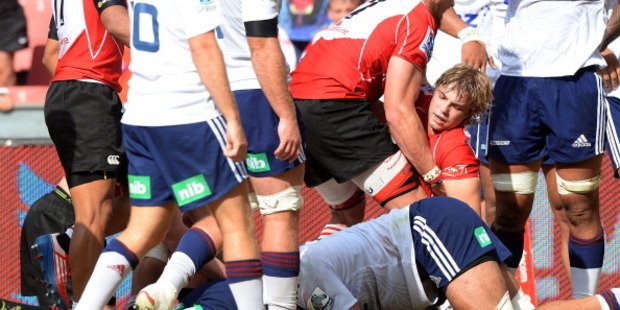 Refereeing injustice in South Africa. That theme incrusted New Zealand rugby visits for decades and the Blues will talk about an episode today which will sit alongside those tales.
More of their discussion should be about their inability to work on the basics of the game after they fell to a 39-36 loss to the Lions.
The numerical difference came when Australian referee Stuart Berry awarded the Lions a try after they lost possession in a superb cover tackle from Charles Piutau but dotted the ball down.
That was a dagger blow but the Blues range of errors was more damaging. They shelled turnovers, lost two men Charlie Faumuina and Tom Donnelly to the sinbin and lacked spark until the arrival of a few substitutes.
Five tries came for the Blues in the last 25 minutes but they left themselves too much to do. There is enough sting in the group but their command of matches, game management in the modern parlance, is awry.
That is holding them back. And it is not just the younger players who are remiss. Donnelly's swinging arm at a ruck was a cheap shot.
His absence did not cost the Blues on the scoreboard but it ate into their energy and reduced their chances of getting back into the match in the third quarter.
Playing catch up at altitude and committing mistakes within range of deadly marksman Mauritz Boshoff is not smart. The integration of All Blacks and others remains a work in progress for the Blues just like their labour.