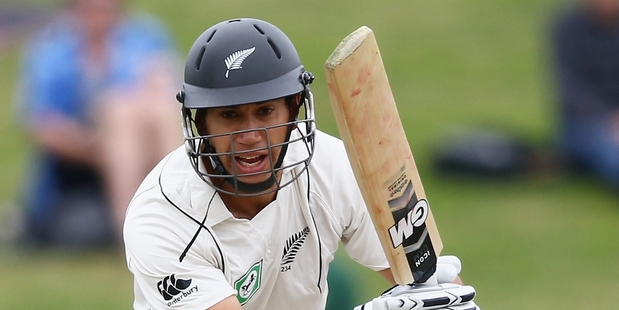 Basking in the afterglow of a summer like no other, it might seem like a crass time to reignite the Great National Captaincy Debate. But what the heck.
New Zealand's next captain should be a classy right-hander who is just getting better and better; who is becoming more and more influential. He's a player who has been earmarked as a future leader since his time in the juniors.
Yes, New Zealand's next captain should be... Ross Taylor.
Seriously. Kane Williamson will be captain one day, but there is no need to anoint him captain-in-waiting; absolutely no need to rush him into the job before he has first established himself as one of the best five batsmen in the world.
Williamson is 23 - with astute management, he could be scoring prolifically for his country for another 15 years.
McCullum, on the other hand, is 32 going on 42. Years of wicketkeeping and 84 consecutive tests worth of national service have ensured him a lifetime of Voltaren and arthritis.
With the best will in the world, it is difficult to see him managing his knees and back beyond 35. This is his time now, make the most of it.
Taylor is an entirely different story. On the outside at least, his is a lower-impact type of cricketing existence. He is two weeks shy of blowing out 30 candles and appears to have a lot of cricket left in him.
He's been skipper before and whether he failed or was a victim of circumstance is irrelevant at this point: what matters is that he knows everything the job entails; he would be so much better prepared for the role.
Taylor's appointment in 2010 was largely to fulfil other people's agendas, not his own. About the only thing then-coach John Wright and then-director of cricket John Buchanan ever agreed on was that Taylor was a captain who wouldn't rock the boat.
That meant Taylor was unfairly maligned in some quarters as Wright's "yes" man. In truth, Taylor was probably aware of that perception and uncomfortable about it. He retreated into his shell and did not get anywhere near the support he needed from management or colleagues.
But all his team-mates have seen what he's done since. That is, start building a case to be considered New Zealand's finest batsman.
To quote Dr Martin Luther King: "The ultimate measure of a man is not where he stands in moments of comfort and convenience, but where he stands at times of challenge and controversy."
The end of this summer might have belonged to McCullum, and only the most stone-hearted of detractors will deny him his glory, and the start might have belonged to Taylor. But the most important moment might just have belonged to them both: scoring centuries within nine balls of each other in Dunedin against the West Indies during the first test of the season.
They embraced, warmly. It was an uncontrived message. If these two, pitched into a pointless head-to-head battle for the public's affections*, could forget the past for the good of their country, why couldn't everybody else?
Taylor and coach Mike Hesson might go through the rest of their lives never ringing the other one up on their birthday, but they don't have to. If there's one thing that will drain the wound of the last of its pus, it's continued success.
Hesson, who has weathered all sorts of slings and arrows, seems pragmatic enough to recognise if Taylor offered the best leadership option, he'd be a fool not to use him. Taylor seems resilient enough to leave any lingering angst in the past.
Just as McCullum will admit to having learned a lot about the art of batsmanship from Taylor this season, Taylor will have learned a lot from watching McCullum lead.
It's not always enough to be on the same page as the coach and to be averaging 50 - sometimes you have to say the things that make less talented team-mates feel like they will run through brick walls with you.
It might not come naturally to Taylor, but you only have to look at his batting to recognise a quick learner. There's your next captain, right there.
*Heard from John Parker's Movement for Change lately? Nah, me neither.