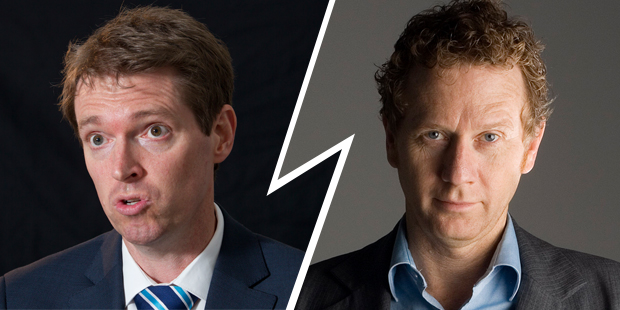 The current battle between Colin Craig and Russel Norman could be just the first round in an ongoing conflict that will feature this election year. The two minor party leaders look set to become the lightning rods for a liberal-conservative ideological conflict.
Both protagonists in the current defamation battle are characterising the dispute as a moral crusade. On Craig's side, this is a battle for higher standards in political debate, in which honesty and accuracy are important parts of the discourse. He's positioning himself as the opponent of overly-aggressive and dirty politics. On the other side, Norman says this is a free speech issue, that political debate needs to be colourful, and democracy would be a poorer place if politicians had to take care to be accurate. But what else is at stake? And what else does this battle say about where this election campaign is headed?
Colin Craig needs to harden up and play the aggressive game

There has been widespread condemnation of Colin Craig's defamation actions against Russel Norman. Virtually every commentator has berated or mocked the Conservative Party leader for his use of legal mechanisms to fight back against Norman's slight against him. Duncan Garner says Colin Craig needs to harden up. His advice is: 'He'll need a tougher hide if he makes it to Parliament later this year. It may not be right, but it's a brutal place where the vulnerable and weak are crushed, and the tough survive. He is now a player; he may help get National back - the Greens and Labour sense that - and they are going to play tough with him from here on in'.

Barry Soper says that Conservative Craig will need a thick skin: 'if he wants to play with the big boys and girls he's going to have to harden up rather than running to his well paid lawyers' offices every time someone delivers a brickbat'. And similarly, John Armstrong argues that Running to mum no way to play politics.

Even Prime Minister John Key has come out against Craig on this - Claire Trevett reports that 'Key said he had never bothered suing in his political career and observed Mr Craig would need a phalanx of lawyers to deal with the flak if he made it into Parliament. "What a waste of time. It's a matter for him but if I took legal action every time I thought somebody had wronged me, my lawyers would be busy too"' - see: Craig calls in lawyers again.

The Labour Party, too, has come out on Norman's side, with its deputy leader even offering legal help - see Michael Fox and Stacey Kirk's Parker offers Norman aid.

Such is the weight of opinion against Craig, Brian Rudman points out that 'cry-baby Colin Craig has achieved the seeming impossible. He has managed to unite a grand alliance of National, Labour and the Greens against him' - see: Woop woop, pull up before it's too late Colin. Rudman is also of the opinion that Craig 'should grow a thicker skin'.

The Herald has published a very good editorial, which makes a strong case for Craig dropping the threats - see: Hollow threats won't elicit unwarranted apology. The newspaper - like others - says that Craig's actions are 'totally at odds with the rough and tumble of politics', and that 'Unless Mr Craig is, indeed, completely naive, this is surely a threat that will go no further'.

It's hard to find any public support for Colin Craig's actions. Blogger Pete George does have a dissenting view and asserts that, although Colin Craig's legal action is somewhat petty, there are larger issues at stake and the essence of Craig's complaint is a fair one. In his blogpost The rough and tumble of politics George argues against an acceptance that politics is inherently aggressive and simply accepting the aggression and dishonest political rhetoric that goes along with it. He asks: 'Lying, making false or unsupported accusations, making personal attacks that are excessive or are irrelevant to the issue, shouldn't these be frowned on rather than toxic just accepted as part of our politics?'

Furthermore, George asks: 'should the "rough and tumble" just be accepted as part of the political game? Is a toxic political environment ok or should the excesses of our parliamentary representatives be challenged? Lying, falsely representing the views of others, making false or unsupported accusations, these are things that turn many people off politics and politicians. Many people - and more than a few MPs - think the rough and tumble is often too rough'.

The transformation of the Greens into a more hard-headed party

Regardless of the rights or wrongs of Colin Craig's legal action, this controversy highlights the ongoing transformation of the Green Party into a more serious political player that is now willing to throw dirt around much like more established and conventional politicians. This is, of course, something of a departure from the earlier days of the Green Party led by Jeanette Fitzsimons and Rod Donald, which put an emphasis on 'clean politics'.

Under Norman, the Greens have been sharpened into a more conventional political party that is ready to play politics like the old-fashioned parties. As David Farrar argues, the whole Craig vs Norman episode 'doesn't reflect well on either man. Russel Norman is the co-leader of the Green Party that claims a core value is "Engage respectfully, without personal attacks". Norman tramples over that Green value all the time' - see: Craig v Norman.

Pete George has elaborated on this transformation in posts such as Russel Norman's clash of principles. George says that the 'Greens were supposed to be above this sort of character attack but Norman seems to be moving more towards the same old petty politics Greens once stayed away from'. Furthermore he alleges that 'I know that some Green Party members are very disappointed that their leaders have chosen to go down the "rough and tumble" path, destroying a good behaviour ethos that was a point of pride for many Greens'.

Of course, Norman objects to the notion that he has delved into gutter politics with his attacks on Craig. Norman has been quoted, for example, saying 'I don't support the idea that we should be able to criticise each other personally, and I didn't attack Colin personally; what I criticised were his views, and his political views'. But this comes across as somewhat disingenuous. Elsewhere Norman has said that he is merely challenging Craig's 'politics of hatred', and that what the Conservative leaders statements on the issue are 'disgusting' - see TVNZ's Craig, Norman continue battle over 'gays in the closet' comments.

Should politicians have 'free speech' to 'sledge' their opponents?

If politicians cannot exaggerate their opponents positions, then we would have a very dull and limited version of democracy according to Norman and his lawyer. Norman has said that 'Colin Craig's approach to politics of using expensive lawyers to try to tell other politicians what they can and cannot say, is not the best way that we should do politics in New Zealand' and that 'It has a chilling effect on free speech if you have to pass everything in front of a defamation lawyer before you can say it' - see Stacey Kirk's Colin Craig sets deadline for Russel Norman's apology.

In her column, Litigious flurries have no place in robust debate, Claire Trevett elaborates: 'Norman argued that in trying to do that, he was actually stifling political debate. If politicians had to run every word past the lawyers for even relatively mild political sledging, it would have a chilling effect on what should be healthy and robust political debate, he said. The reason defamation laws are more relaxed when it comes to the political context is because of the strong public interest in allowing robust analysis and debate. This is not to say politicians and political commentators should have carte blanche. But there is a difference between an MP making serious allegations about a person's conduct or actions and simple political hyperbole or exaggeration of an opponents' political views. Excessive litigiousness has thankfully not been a significant feature in New Zealand politics. Craig is apparently determined to change that'.

Does Colin Craig have any chance of winning?

For the best investigation into this question, see Isaac Davison's article Legal experts doubt Craig can win. Davison cites a number of experts and the complexities of the case are made clear.

Possibly the key question is: Has Colin Craig been damaged by Russel Norman's statements? That was obviously the intention of the Green Party leaders' statement at the Big Gay Out. But it's unclear whether the desired effect has been achieved. Norman implied to the public that Craig's policies and intentions are based on highly misogynist and homophobic beliefs. It would be interesting to see this tested in court.

Craig argues that, yes, opinions are well covered by the Defamation Act, and that politicians are welcome to express opinions that are right or wrong, but in this case 'Norman had couched his comments as statements of fact rather than opinion' - see Claire Trevett's Colin Craig sets lawyers on Green co-leader. See also, Barry Soper and Juliette Sivertsen's The fact it's election year could protect Russel Norman. The Herald's editorial, Hollow threats won't elicit unwarranted apology, also makes some key points.

Much of Norman's defence appears to rely on - not just Craig's various statements - but his opposition to gay marriage. But, of course, plenty of politicians have opposed gay marriage recently. And, in fact, when the Civil Union debate was on, Helen Clark and the Labour Party were clear that they did not support marriage equality.

Understanding Colin Craig

The latest Metro magazine is out, and has a profile/interview with Craig by Steve Braunias. As usual, Braunias attempts to understand the essence of the politician, and this can probably be boiled down to one quote from the article: 'He can be so boring. I loved it. Household drudgery is one of my favourite topics of conversation, and here was a leader of a political party who could speak knowledgeably and intimately about plastic food tubs with proper sealing lids. He also talked about the joys of household budgeting sessions around the dinner table with an Excel spreadsheet'.

An even better quote about Craig - albeit devoid of context here - comes from one of his best friends, who says, 'Well, I'd liken Colin to John Key in a sense. I don't follow politics, so I'm not sure about this one, but have I got it right that John Key used to be known as the smiling assassin? I have? Okay. Well, then, with Colin, you wouldn't know you've been stabbed in the back and had your country decimated by invading troops until it practically happens'.

5pm today is the deadline imposed on Russel Norman to apologise and retract his sledge against Colin Craig. There's no doubt that the Greens won't back down on this. But will Colin Craig? For a discussion of this question and the whole issue from Craig's perspective, you can watch Paul Henry's 6-minute interview with Craig: 'Old-fashioned and out of touch'. From this, and other items, Norman looks to be the winner of this particular controversy, but there will be continuing concerns if sledging and dirty politics become a defining feature of this year's election campaign.

Finally, for some light-hearted - yet still meaningful - approaches to the Craig vs Norman issue, see Scott Yorke's I'm sorry, Colin. Really sorry, Andrew Geddis' Neknominate: the Colin Craig version, and my blogpost, Cartoons about Colin Craig vs Russel Norman.