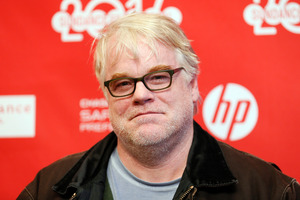 For a Hollywood leading man, perhaps Philip Seymour Hoffman's most refreshing virtue was how un-Hollywood he always seemed to be.
He was the anti pin-up. Always a little dishevelled, maybe a little overweight. Fame, wealth and celebrity were but byproducts of his job; acting was his sole ambition. And publicly compared with many of his blockbuster contemporaries, Philip Seymour Hoffman was an outsider.
I went to his apartment this week, on a little street down in Manhattan's West Village.
The bohemian neighbourhood undoubtedly rates as one of the nicest-and most exclusive-in New York. Think Sex and the City. Think boutiques, wine bars, and movie stars with designer dogs.
The West Village is not a part of town one usually associates with heroin addicts.
But by a little shrine of candles and cards, Philip Seymour Hoffman's photo blurred in the weight of wet snow.
New York was a heroin city, once.Whether courtesy of the associated stigma, law enforcement, or the sheer number of people who fell to the drug, overdosing instances dropped dramatically throughout the US for the first part of this century.
But Hoffman's death highlights a staggering rise in recent heroin figures. Alone, surrounded by drugs, the man died with a needle in his arm.
He was a complicated figure, but Philip Seymour Hoffman's lonely demise is one of oh-so many.