From smashing the fastest international one-day ton to being belted all round the park it's been a rollercoaster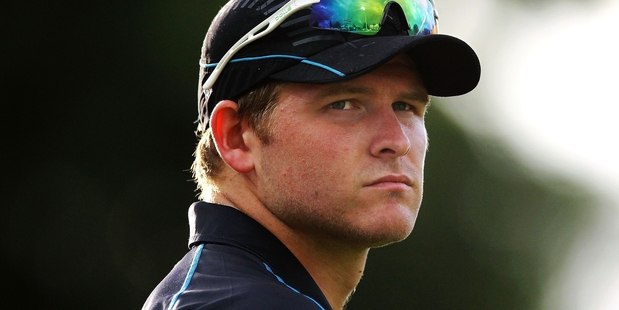 If there's a lesson to be learned from the New Zealand-India series it's to be wary of the hero-to-zero mantra spawned by knee-jerk reactions to success and failure.
Few avenues of working life highlight such disparities as much as professional cricket. A century one week; a duck the next. A five-wicket bag one day; getting hit for 17 off the last over in the same outing of what ends up a tied match.
A case study is fledgling all-rounder Corey Anderson. Each of the above scenarios has happened to him this month.
One minute he's labelled the next $1 million cricketer who uses a bat like a magic wand. The next, according to disgruntled fans leaving Eden Park on Saturday night, he can't bowl, despite taking an ODI five-wicket bag.
Anderson is neither of these things - at least not until the Indian Premier League auction on February 12.
However, Brendon McCullum and Kane Williamson spoke afterwards of his distress in the dressing room after the final over at Eden Park.
"The poor fella's sitting there a bit upset but that's the nature of having those opportunities [like bowling at the death]. He's learning quicker than anyone in international cricket at the moment," said McCullum.
"Naturally he's a bit disappointed but he got a five-for [five for 63]. We can pick a whole lot of scenarios which could have changed the course of the [tied] match but we need to accept it and move on," said Williamson.
The reality is despite Anderson making the quickest ODI century in history off 36 balls against the West Indies in Queenstown, he's not yet the second-coming of Bradman, nor is he a choker incapable of bowling the final over against the world champions. We do know he was probably due a rest on Tuesday night, having played consistently since the New Zealand A tour of India and Sri Lanka in late August.
Certainly he gets paid a decent salary for a 23-year-old to perform in a professional sporting environment, the subject of many schoolboy dreams, but he is still human, still fallible.
Anderson is just one case study. There are many younger players across all formats in the New Zealand team developing their big match temperaments.
It's often said what doesn't hurt you makes you stronger; try telling that to countless New Zealand players who quietly implode under the pressure at the top level.
Jesse Ryder is one of the few, at least at this stage, to have come out the other side.
The inclination to build players up and critique them is a natural part of sporting analysis. It's simply people giving voice or words to their sporting passion which fuels debate and helps sports stay in the headlines and as a conversation topic.
The downside is when it becomes personal and abusive. Cricket has one of the worst sporting records for mental illness. One statistic which ran in the Herald during March 2012 shocked - 20 professional cricketers out of less than 100 had used mental health support programmes with more waiting to be seen.
The New Zealand team is enjoying a purple patch of form but, with the World Cup still over a year away, care must be taken exaggerating or ridiculing players' abilities.