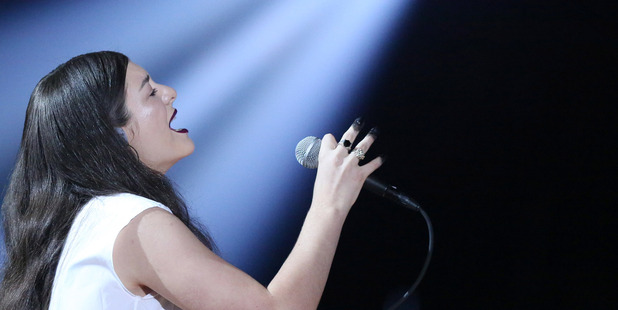 As Lorde sang, feet rooted to the spot, hands clawing at that rarefied Grammy Awards air, her fingertips looked a smudged mess of black. It was an anti-fashion statement enough to cause its own online stir.
Or - and yes, this is a stretch - might it have been its own little comment. Something about being an outsider to the US of A? Because if you've spent much of the 17th year of your life undergoing the joys of US immigration formalities, as you've crossed the Pacific again and again, you've been fingerprinted more than most.
Or could it have been something about getting one's artistic, idealistic hands dirty in what is the American, most mainstream, often most baffling, biggest televised music event on the planet?
Whatever it was, it wasn't about to compete in attention-getting efforts with Katy Perry (trying to out-Goth Lorde in one of Madonna's old Pope-scaring get-ups) or Pink (auditioning for her own Cirque du Soleil show again).
But try as they might with their vast teams of co-writers, the showgirls of US pop couldn't stop Lorde from becoming the Woman of the Night.
No other female artist got a look-in among the Grammys' major pop awards. Then again, with the domination of those Daft Punk robots barely any humans did either.
Lorde's wins in two out of four categories were for the writing of Royals and the singing of it. She lost out for best pop vocal album (to Bruno Mars) and record of the year (those damn robots).
But, as they sometimes say, just being nominated is an honour. Actually winning two out of four ... well, as she put it herself, that's "mental".
Does winning mean anything afterwards? Well, unlike the times New Zealand actresses have been Oscar-nominated in the past, a Grammy isn't the start of a showbiz fairytale, more the end of an unbelievable volume one.
The Grammys are the icing, not the cake. But having two of them means your American music industry outsider status has been officially revoked. Other results of Lorde's triumphs? Well, quite a few million people just got told that catchy weird song Royals comes from an album and may well act on that. It also makes her album an ever harder act to follow.
And there's this: quite a few million young women just got told you don't have to dress like a Perry, or dance like a Pink or look like a Taylor to win. And that you can paint your fingers any damn colour you like while doing just that.