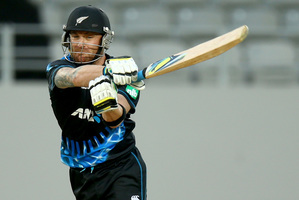 It hasn't been the worst start against the might of India - but how important is it to send a message to the overlords of world cricket in this series?
I don't think the bigger picture is as big as one may think.
If the Black Caps were to smash India in this series, the superpower would probably just shrug their shoulders and move on. If they were to smash us, they would most likely do the same.
This is because Indians don't like cricket ... they like Indian cricket. They come out to watch India play, doesn't really matter who they're playing; they just want to watch them play. No matter how good or poor New Zealand is when India play New Zealand, Indians will fill the stadiums and watch on TV. This is why, when India tour, interested parties make money.
Now don't get confused by my saying it's irrelevant what happens when India and New Zealand play - because, while I believe that, the key is to actually to get them here in the first place.
With the way India, England and Australia want to organise the playing schedule, New Zealand have to find a way to make India want to play us regularly.
Indians don't like cricketers ... Indians like cricketing superstars. This is the challenge for our players now. India will want to engage with our humble cricket nation if their population identifies with our cricketers.
And there is hope. Ross Taylor and Brendon McCullum are already big names in India because of their IPL profile - which is exactly what the likes of Martin Guptill, Corey Anderson and Jesse Ryder need to do. These guys have the power to be stars because of their batting power. They need to win over the IPL owners and Indian crowds.
Powerful batting and displays of hitting is key to earning their respect but it's a different kettle of fish for England and Australia. Winning in Australia is vital. If the days of the Future Tours Programme are over, then so too are the days of going to Australia, getting a sound hiding and then thanking them for the lesson.
Going toe to toe with the Aussies in Australia is what must happen and explosive batting will not be enough. It's about total cricket in Australia, aggressive cricket, winning cricket.
The TV rights in Australia are free-to-air rights. Cricket competes with drama, sitcoms and other general programming. Australian Cricket cannot take a chance on lacklustre tourists or bother investing in cricket hosted outside of Australia if it does not rate.
In England they just like quality cricket plain and simple.
So while I'm enjoying our competitive effort right now there is so much improvement that must still happen if we feel we are going to safely suckle at the bosom of India, Australia and England like a surrogate baby.