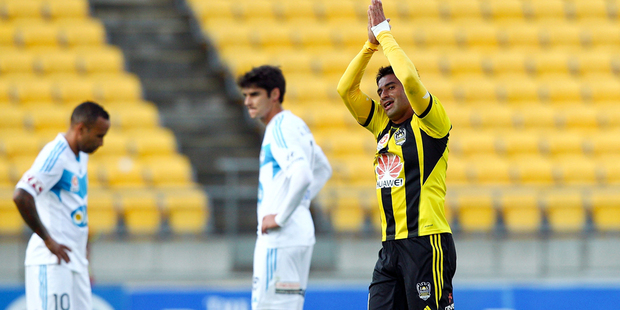 Is that the sound of a bear with a sore head, or is it Phoenix co-owner Gareth Morgan winding up?
Every revolution needs a defining moment and the Wellington Phoenix might have found that in a superb 5-0 win over the Melbourne Victory, a candidate for their finest ever performance. Style is turning into substance, but it's not all good news for the surging soccer club.
Each A-league week is driving another nail into the coffin that contains the boring, stagnant Ricki Herbert era, which can now be seen properly as a full-blown disaster that set New Zealand soccer back years.
And the hangover remains.
New coach Ernie Merrick - an instantly likeable Scot - is a saviour right now and a signpost to the future. His playing style, development and recruitment is spot-on. His demeanour and respect for the domestic game is exemplary.
It's hard to know whether to praise the Phoenix for making the inspired appointment of Merrick, or bag them for clinging to Herbert.
Whatever the case, it's exciting to contemplate watching the Phoenix each week.
The job is far from done, of course, but is looking mighty promising. As with the Super 15 Chiefs, Merrick has shown sports franchises can be turned around very quickly, but his velvet revolution hasn't got the turnstiles revolving.
Despite playing some of the best soccer in the league and a small run of excellent results, less than 7000 turned up at the ill-fitting Cake Tin to watch an artful demolition of the Melbourne Victory, a leading team.
In early 2012, shortly after taking over at the club, Morgan declared "Welly needs to step up" when the attendance figures were stuck below the 7000 mark. Morgan reckoned 15,000 should be the order of most days, and threatened to take more games out of the capital.
The problem remains. Those who do turn up punch way above their weight in creating a stirring atmosphere, but there is no excuse for absent friends anymore.
Carlos Hernandez, Albert Riera and co are in terrific touch, and the latest victory included a couple of outstanding goals. And this despite the absence of the injured Paul Ifill, who was - under Herbert - about the only source of creative hope.
Merrick's Marvels are working hard in all areas, to the point that the Victory struggled to play the ball out of defence with any certainty.
But Morgan and his co-owners will be scratching their heads wondering where the fans are. The next home game is against Adelaide at Eden Park, on February 1. Morgan will be interested in the numbers.
Laud Langman, Ferns' heroine
They said there would never be another Sandra Edge, and then along came Laura Langman. The Silver Ferns' midcourt wizard will play her 100th consecutive test against England tomorrow, a testament to her tremendous skill and preparation.
The versatile Langman carries a heavy load but never misses a beat. Since Temepara George's retirement, the Silver Ferns would struggle to field an international midcourt without the versatile Langman. Her resistance to injury comes when the game is faster and more physical. She's even got her own admittedly dubious fashion note - the calf-length-socks look (apparently a byproduct of being raised on a farm).
Whereas Edge played for a free-flowing Ferns outfit, Langman has often served the Tower of Power, Irene van Dyk, whose massive presence can shade those around her. This is an opportune time to salute Langman, New Zealand's irreplaceable netballer and an unsung heroine of sorts.
Hate those tennis grunters
Tennis screamers. Hate them, with a fanaticism. I lasted ten agonising points watching and listening to bellowing Belarusian Victoria Azarenka before angrily switching to a men's game from the Australian Open. Azarenka's pre-meditated grunt, which has been measured at 95 decibels, is exactly the same for every point. It's as spontaneous as canned laughter and not funny.
I charged around the internet, looking for stories on the subject, and found one in which a brat from Portugal gave the world a two-fingered salute, saying she would never stop grunting and those who didn't like it could leave. Well, stuff you, sister. Grunting, screaming, call it what you will, ruins the game. Tennis is stark raving mad for having let the perpetual grunters rule.