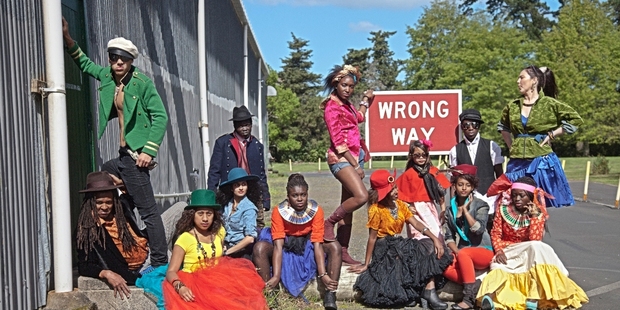 This column is all Dame Anne Salmond's fault. I never really cared who became Kiwibank New Zealander of the Year until the anthropologist transformed her 2013 title into a soapbox.
Instead of resting on her laurels she has turned them into a warm, fuzzy public platform on which to make sharp, excellent, non-partisan points against the GCSB Bill, inequality and short-term thinking. The winner of the intellectual beauty contest really has worked for world peace.
It is difficult, even for those who disagree, to ignore her: she is New Zealander of the Year. NZOTY is the closest we have to a president (PONZ). It would be easier to ignore the flamingoes on the Civic Theatre curtain, poverty protesters at a National Party shindig, glitter on a Reuben Paterson canvas, or the sex toys in a Michael Hurst-directed musical.
So I'm excited about who will win in Salmond's wake. Which 2014 semifinalist would say interesting and admirable things? Will it be Mai Chen? Hopefully not while she's acting for Ports of Auckland against their democratically elected controllers, the Auckland Council.
Maybe Kaitaia GP Lance O'Sullivan? Or will the 2014 judges divide the nation by choosing Bob Parker? Also a semifinalist: Richie McCaw, presumably ex officio.
We'll know the finalists on Monday, and the winner in February.
In the meantime, this newspaper - using different criteria and timeframes - named its own New Zealanders of the Year last month: Lorde, Lydia Ko and Eleanor Catton. Their achievements are indeed remarkable, so making them share the accolades seems a bit mean. They are collectively known as the "young women", a grouping which sounds increasingly patronising, particularly as one of them is almost half a generation older than the other two and is, like, a grown-up who can vote and stuff.
But between the Herald's December and Kiwibank's February is a NZOTY-free month. So I'm going to launch the WWJD New Zealander of the Year. The acronym stands for Who Won January's Decoration? Or, in my more megalomaniac moments, What Would Janet Decide?
My WWJD winner for 2014 is ... The Arts Volunteer. This goes out to all you volunteers who work to improve our cultural landscape - from cultural association boards to bFM "volleys" to public art gallery guides to internet reviewers. From a professional culture vulture: thank you.
But I'm thinking particularly of those who have started community programmes - sometimes world firsts - which allow all of us to create, broadcast and/or experience culture in novel ways, free.
People like Pip Hall and Judy Dale who founded the water dance group Wet Hot Beauties; and the team behind Mixit, the West Auckland performance group for young refugees and others. We applaud Emma Rogan, who turned the 100 Days Project into a global movement; and Luka Hinse, who brought pecha kucha presentations to New Zealand. Thanks to pecha kucha's soapboxes, we can all be NZOTY in 2014. For the time it takes to show 20 slides at least.
Mixit refugee youth arts project's annual performance, Access, is staged on January 25 and 26, with Mixit director Wendy Preston leading an international cast of people aged 14 to 22 from refugee, migrant and local backgrounds; entry is by koha; see mixit.co.nz.
Access: Corban Estate Arts Centre, January 25 at 6pm; January 26 at 2pm and 6pm.