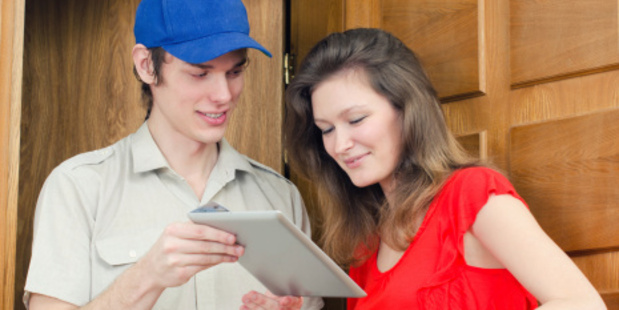 A courier driver's heart must surely sink when he (or she) has to make a delivery to a residential address. While a company address is virtually guaranteed to be open during normal business hours, it's not always easy to gain access to a private home.
And, while a business is likely to have a receptionist on hand to take receipt of a package, a home address may well be unoccupied for most of the day. Add to the mix locked gates, angry dogs and homeowners in a state of undress, and it's clear a courier driver's lot is not always a happy one.
Years ago I discovered from personal experience that a private home makes an unsuitable address for a courier parcel. All too often the courier would leave a card saying he (or she) had called while I was out. Then by the time I'd had the package redirected to an address where someone was in attendance all day (my husband's place of work), it would have been faster if the package had simply been sent through the standard mail system.
I've long been a fan of the postal service. I used to marvel at how a letter could be hand delivered to any New Zealand address for just 40-cents. (I won't mention that this same service once cost 4-cents because I'm far too young to remember that.)
When a parcel is sent by courier, all too often it's for the benefit of the sender. It can be highly inconvenient for the recipient - if they feel they have to stay in all day to sign for it or if they have to have it redirected to another address or (worse) have to travel to a depot to collect the package from the courier company.
Two weeks before Christmas I posted a medium-sized package from Auckland to a P.O. Box in Hawkes Bay. It was packed in one of those NZ Post cardboard boxes and I sent it by standard mail. (I even declined the "Track & Trace" option offered; it doesn't mean your package won't go missing so I'm not entirely sure of the point of it.)
Anyway, just 24 hours later at 10.25am the very next morning I received a text from the recipient: "Wow. A whole lot of pressies arrived ... Thank you muchly." I kid you not. I love NZ Post. But not everyone is a raving fan of old-fashioned snail mail; columnist Kerre McIvor told of a parcel that "vanished" somewhere in the postal system after she paid $110 to send it to London.
There is no shortage of anecdotes about packages going missing or being delivered in inappropriate ways. One British article revealed courier driver sins that ranged from: "tales of couriers hurling laptops over garden fences, to packages left to rot in the snow, to delivery drivers not even bothering to knock on the door before poking a 'sorry we missed you card' through the letterbox."
The BBC lists more "parcel delivery nightmares" including: a parcel that was put in a recycling bin which was emptied before it could be retrieved, flowers which were thrown over a wall by a courier and not discovered until they were "soggy and rotten" - and a package containing a laptop being placed in a compost bin.
Two common gripes about courier drivers are when they leave a package at an unattended residence even though it was stipulated that a signature was required and when they leave a "Card to Call" note without checking first to see if the resident was at home. Both of these problems stem from the simple, yet seldom acknowledged, fact that (unless the occupant is in attendance all day) private residences are not really suitable addresses for couriered items.
Courier services, which must have been established with corporate customers firmly in mind, are often a source of frustration for both the domestic recipient and the courier driver. But demand for courier deliveries at home is here to stay. With the increase in trade via online shopping and through auction sites, domestic customers are a valuable component of the courier business. And until some smart courier company creates a service that takes the needs of domestic recipients into account, they will continue to bear the brunt of a flawed system.
What's your experience with receiving courier packages at home? Why haven't courier companies tailored services to suit the needs of the domestic consumer?